[]
<![CDATA[ document.addEventListener('DOMContentLoaded', function () { //c360 javascript tracker first iteration //sends a track request to c360 http tracker //in order to use it: //1. inline the c360Tracker.js in the page you need to use it //2. in your js file: // // var c360Tracker = B.require('c360Tracker'); // var event = { // action_name:"accommodation_checkout_confirmation_viewed", // action_version :"0.2.0", // content : { "transaction_id" : 123434}, // user : { "BKNG_user_id": 123434} // }; // c360Tracker.track(event); B.define('c360Tracker', function () { var enrichedContext = {}; var configuration = { validateInput: false }; var track = function (event) { if (event == null) { return "event object is null or empty"; } else { //if (enrichedContext.userID != null) { // event.user = {BKNG_user_id: enrichedContext.userID}; //} var validationResult = new ValidationResult(true); if (configuration.validateInput) { validationResult = validateInput(event); } if (!validationResult.success) { return validationResult.message; } send(event); } }; function send(data) { data.context = enrichedContext; data.tracker = { tracker_name: "C360JSTracker", tracker_type: "Client", tracker_version: "0.1.0" }; return $.ajax({ url: '/c360/v1/track', type: 'POST', data: JSON.stringify(data), }); } enrich(); var scheme = { "type": "object", "properties": { "action_name": { "type": "string", "description": "action name (ex. element viewed)", }, "action_version": { "type": "string", "description": "action version" }, "content": { "type": "object", "description": "content defined by the registered producer scheme" } } }; function ValidationResult(success, message) { this.success = success; this.message = message; } function validateInput(event) { var result = validateObject(event, scheme); return result; } function validateObject(obj, scheme) { if (scheme.properties != null) { var propsArray = Object.getOwnPropertyNames(scheme.properties); for (var i = 0; i Le 10 migliori ville – Sardegna, Italia | Booking.com<![CDATA[ /* */ (function avoidingXSSviaLocationHash() { var location = window.location, hash = location.hash, xss = /['"]/; if ( xss.test( decodeURIComponent( hash ) ) || xss.test( hash ) ) { location.hash = ''; } })(); document.documentElement.className = document.documentElement.className.replace('noJS', '') + ' hasJS'; var b_experiments = {}, WIDTH, B = window.booking = { _onfly: [], // "on the fly" functions, will be executed as soon as external js files were loaded devTools: { trackedExperiments: [] }, user: { }, env : { isRetina : window.devicePixelRatio > 1, "b_gtt": 'dLYAeZFVJfNTBBScUYcbfVBVJfcbTYYKLFJZeKe', "b_action" : 'theme_landing_region', "b_secure_domain" : ", "b_site_type" : 'www', "b_site_type_id": '1', "b_query_params_with_lang_no_ext": '?sid=abbded3383386115144255054f3c5249', "b_query_params_with_lang_no_ext_enforce_lang_aid_currency": '?sid=abbded3383386115144255054f3c5249;lang=it;aid=357028;selected_currency=EUR', "b_calendar2" : '1', /* */ "b_partner_channel_id": '17', "b_bookings_owned": '1', "b_google_maps_key_params" : 'true&indexing=true', "b_lang" : 'it', "b_has_valid_dates": 0, "b_countrycode" : 'it', "b_guest_country" : 'it', "b_locale" : 'it-it', "b_lang_for_url" : 'it', "b_this_urchin" : '/villas/region/it/sardegna.it.html?', "b_flag_to_suggest" : 'it', "b_companyname" : 'Booking.com', "b_partner_vertical" : 'channel_seo', b_date_format: {"date_with_weekday_time_at":"date_with_weekday_time_at","day_month_on":"{day_name_on} {month_name}","month_with_year":"{month_name_with_year_only} {full_year}","day_month_year_time_before":"prima delle {time} {day_name_other} {month_name} {year}","day_short_month_until":"{day_name_till} {short_month_name}","ux_day_month":"","date_with_weekday_time_from_until":"{weekday} {begin_marker}{day_of_month} {month_name}{end_marker} {full_year}, dalle {time} alle {time_until}","day_of_month_only":"{day_of_month}","long_date_range_both_years":"{day_of_month} {month_name} {full_year} – {day_of_month_until} {month_name_until} {full_year_until}","short_date":"{day_of_month} {short_month_name} {full_year}","day_month":"{day_name} {month_name}","day_short_month_year_other":"{day_name_other} {short_month_name} {full_year}","numeric_date_range_both_years":"{day_of_month}/{month}/{full_year} – {day_of_month_until}/{month_until}/{full_year_until}","date_without_year":"{day_of_month} {month_name}","day_month_year_from":"{day_name_from} {month_name} {full_year}","day_short_month_year_time":"{day_of_month} {short_month_name} {full_year} alle {time}","day_short_month_from":"{day_name_from} {short_month_name}","day_month_until":"{day_name_till} {month_name}","date_with_weekday_to":"{weekday_to} {day_of_month} {month_name_to} {full_year}","numeric_date":"{day_of_month}/{month}/{full_year}","day_month_other":"{day_name_other} {month_name}","short_month_only":"{short_month_name}","day_short_month_year_on":"{day_name_on} {short_month_name} {full_year}","day_month_year_on":"{day_name_on} {month_name} {full_year}","date_with_weekday_time_until":"{weekday} {begin_marker}{day_of_month} {month_name}{end_marker} {full_year} fino alle {time}","day_month_between":"tra {day_name_on} {month_name} e {day_name_on} {month_name_until}","from_month_with_year":"da {month_name_from} {full_year}","date_with_weekday":"{weekday} {day_of_month} {month_name} {full_year}","numeric_day_month_year_on":"{day_name_on_0}/{month_name_0}/{full_year}","short_month_with_year":"{short_month_name} {full_year}","day_short_month_year_time_between":"{day_of_month} {short_month_name} {full_year}, {time} – {time_until}","date_with_weekday_time_from":"{weekday}, {begin_marker}{day_of_month} {month_name}{end_marker} {full_year} dalle {time}","date_range_with_short_weekday_short_month":"{short_weekday} {day_of_month} {short_month_name} – {short_weekday_until} {day_of_month_until} {short_month_name_until}","short_date_without_year":"{day_of_month} {short_month_name}","date_with_weekday_with_markers":"{weekday} {begin_marker}{day_of_month} {month_name}{end_marker} {full_year}","short_weekday_only":"{short_weekday}","short_date_with_weekday_without_year":"{short_weekday} {day_of_month} {short_month_name}","day_month_year_until":"{day_name_till} {month_name} {full_year}","numeric_day_month_year_until":"{day_name_till_0}/{month_name_0}/{full_year}","day_month_year_between":"tra {day_name_on} {month_name} {full_year} e {day_name_on} {month_name_until} {full_year_until}","short_date_without_year_range":"{day_of_month} {short_month_name} – {day_of_month_until} {short_month_name_until}","numeric_day_month_year":"{day_name_0}/{month_name_0}/{full_year}","day_short_month":"{day_name} {short_month_name}","day_short_month_year_until":"{day_name_till} {short_month_name} {full_year}","date_with_short_weekday_without_year":"{short_weekday} {day_of_month} {month_name}","in_month_with_year":"a {month_name_in} {full_year}","month_name_only":"{month_name_nom}","day_short_month_time":"{day_of_month} {short_month_name} alle {time}","numeric_date_range":"{day_of_month}/{month} – {day_of_month_until}/{month_until}","day_short_month_time_between":"{day_of_month} {short_month_name}, {time} – {time_until}","day_short_month_year_between":"{day_of_month} {short_month_name} {full_year} – {day_of_month_until} {short_month_name_until} {full_year_until}","date_with_short_weekday_with_year":"{short_weekday} {day_of_month} {month_name} {full_year}","day_short_month_between":"{day_of_month} {short_month_name} – {day_of_month_until} {short_month_name_until}","day_short_month_year_from":"{day_name_from} {short_month_name} {full_year}","ux_day_month_on":"{day_2} {month_2}","numeric_day_month_year_between":"tra {day_name_on_0}/{month_name_0}/{full_year} e {day_name_on_0_until}/{month_name_0_until}/{full_year_until}","short_date_with_weekday":"{short_weekday} {day_of_month} {short_month_name} {full_year}","date_with_year":"{day_of_month} {month_name} {full_year}","day_short_month_on":"{day_name_on} {short_month_name}","numeric_day_month_year_time_before":"prima delle {time} {day_name_other_0}/{month_name_0}/{full_year}","day_month_year_other":"{day_name_other} {month_name} {full_year}","numeric_day_month_year_from":"{day_name_from_0}/{month_name_0}/{full_year}","day_short_month_year":"{day_name} {short_month_name} {full_year}","day_month_from":"{day_name_from} {month_name}","range_from_long_date_time_until_long_date_time":"dal {day_of_month} {month_name} {full_year} alle {time} fino al {day_of_month_until} {month_name_until} {full_year_until} alle {time_until}","day_month_year":"{day_name} {month_name} {full_year}","date_with_weekday_from":"{weekday_from} {day_of_month} {month_name_from} {full_year}"}, b_month_for_formatted_date: {"1":{"name_only":"gennaio","name_def_article_lc":"il gennaio","name_to":"gennaio","name_other":"gennaio","genitive_uc":"gennaio","name_from":"gennaio","in_month_lc":"a gennaio","month_2″:"gennaio","name_def_article_uc":"Il gennaio","to_month_lc":"gennaio","name_uc":"Gennaio","name":"gennaio","name_in":"gennaio","day_to":"gennaio","genitive_lc":"gennaio","month_1″:"gennaio","short_name_uc":"Gen","on_day_month":"1″,"name_lc":"gennaio","name_with_year_only":"gennaio","short_name":"gen"},"10″:{"name_uc":"Ottobre","to_month_lc":"ottobre","name_def_article_uc":"L'ottobre","month_2″:"ottobre","name":"ottobre","genitive_lc":"ottobre","name_in":"ottobre","month_1″:"ottobre","short_name_uc":"Ott","name_with_year_only":"ottobre","on_day_month":"10″,"name_lc":"ottobre","short_name":"ott","name_def_article_lc":"l'ottobre","name_only":"ottobre","name_to":"ottobre","name_other":"ottobre","name_from":"ottobre","genitive_uc":"ottobre","in_month_lc":"a ottobre"},"11″:{"month_2″:"novembre","name_def_article_uc":"Il novembre","to_month_lc":"novembre","name_uc":"Novembre","name":"novembre","short_name_uc":"Nov","month_1″:"novembre","name_in":"novembre","genitive_lc":"novembre","short_name":"nov","name_lc":"novembre","on_day_month":"11″,"name_with_year_only":"novembre","name_only":"novembre","name_def_article_lc":"il novembre","name_to":"novembre","name_other":"novembre","in_month_lc":"a novembre","genitive_uc":"novembre","name_from":"novembre"},"12″:{"name_to":"dicembre","name_def_article_lc":"il dicembre","name_only":"dicembre","name_from":"dicembre","genitive_uc":"dicembre","in_month_lc":"a dicembre","name_other":"dicembre","name":"dicembre","name_uc":"Dicembre","to_month_lc":"dicembre","month_2″:"dicembre","name_def_article_uc":"Il dicembre","name_with_year_only":"dicembre","on_day_month":"12″,"name_lc":"dicembre","short_name":"dic","genitive_lc":"dicembre","name_in":"dicembre","short_name_uc":"Dic","month_1″:"dicembre"},"2″:{"in_month_lc":"a febbraio","name_from":"febbraio","genitive_uc":"febbraio","name_other":"febbraio","name_to":"febbraio","name_def_article_lc":"il febbraio","name_only":"febbraio","short_name":"feb","name_lc":"febbraio","on_day_month":"2″,"name_with_year_only":"febbraio","month_1″:"febbraio","short_name_uc":"Feb","genitive_lc":"febbraio","name_in":"febbraio","day_to":"febbraio","name":"febbraio","to_month_lc":"febbraio","name_uc":"Febbraio","name_def_article_uc":"Il febbraio","month_2″:"febbraio"},"3″:{"short_name":"mar","name_lc":"marzo","on_day_month":"3″,"name_with_year_only":"marzo","short_name_uc":"Mar","month_1″:"marzo","day_to":"marzo","name_in":"marzo","genitive_lc":"marzo","name":"marzo","month_2″:"marzo","name_def_article_uc":"Il marzo","name_uc":"Marzo","to_month_lc":"marzo","in_month_lc":"a marzo","genitive_uc":"marzo","name_from":"marzo","name_other":"marzo","name_to":"marzo","name_only":"marzo","name_def_article_lc":"il marzo"},"4″:{"name_def_article_lc":"l'aprile","name_only":"aprile","name_to":"aprile","name_other":"aprile","name_from":"aprile","genitive_uc":"aprile","in_month_lc":"ad aprile","to_month_lc":"aprile","name_uc":"Aprile","month_2″:"aprile","name_def_article_uc":"L'aprile","name":"aprile","genitive_lc":"aprile","name_in":"aprile","month_1″:"aprile","short_name_uc":"Apr","name_lc":"aprile","on_day_month":"4″,"name_with_year_only":"aprile","short_name":"apr"},"5″:{"in_month_lc":"a maggio","genitive_uc":"maggio","name_from":"maggio","name_other":"maggio","name_to":"maggio","name_only":"maggio","name_def_article_lc":"il maggio","short_name":"mag","on_day_month":"5″,"name_lc":"maggio","name_with_year_only":"maggio","month_1″:"maggio","short_name_uc":"Mag","name_in":"maggio","genitive_lc":"maggio","name":"maggio","name_def_article_uc":"Il maggio","month_2″:"maggio","to_month_lc":"maggio","name_uc":"Maggio"},"6″:{"genitive_lc":"giugno","name_in":"giugno","short_name_uc":"Giu","month_1″:"giugno","on_day_month":"6″,"name_lc":"giugno","name_with_year_only":"giugno","short_name":"giu","name_uc":"Giugno","to_month_lc":"giugno","name_def_article_uc":"Il giugno","month_2″:"giugno","name":"giugno","name_other":"giugno","name_from":"giugno","genitive_uc":"giugno","in_month_lc":"a giugno","name_def_article_lc":"il giugno","name_only":"giugno","name_to":"giugno"},"7″:{"name_with_year_only":"luglio","on_day_month":"7″,"name_lc":"luglio","short_name":"lug","name_in":"luglio","genitive_lc":"luglio","month_1″:"luglio","short_name_uc":"Lug","name":"luglio","name_def_article_uc":"Il luglio","month_2″:"luglio","to_month_lc":"luglio","name_uc":"Luglio","genitive_uc":"luglio","name_from":"luglio","in_month_lc":"a luglio","name_other":"luglio","name_to":"luglio","name_only":"luglio","name_def_article_lc":"il luglio"},"8″:{"genitive_uc":"agosto","name_from":"agosto","in_month_lc":"ad agosto","name_other":"agosto","name_to":"agosto","name_only":"agosto","name_def_article_lc":"l'agosto","name_with_year_only":"agosto","on_day_month":"8″,"name_lc":"agosto","short_name":"ago","name_in":"agosto","genitive_lc":"agosto","short_name_uc":"Ago","month_1″:"agosto","name":"agosto","name_def_article_uc":"L'agosto","month_2″:"agosto","name_uc":"Agosto","to_month_lc":"agosto"},"9″:{"name_other":"settembre","in_month_lc":"a settembre","name_from":"settembre","genitive_uc":"settembre","name_def_article_lc":"il settembre","name_only":"settembre","name_to":"settembre","short_name_uc":"Set","month_1″:"settembre","genitive_lc":"settembre","name_in":"settembre","short_name":"set","on_day_month":"9″,"name_with_year_only":"settembre","name_lc":"settembre","to_month_lc":"settembre","name_uc":"Settembre","month_2″:"settembre","name_def_article_uc":"Il settembre","name":"settembre"}}, b_weekday_formatted_date: {"1":{"short_uc":"Lun","name_other":"lunedì","name_lc":"lunedì","name_from":"lunedì","name_other_uc":"lunedì","name_on":"il lunedì","short":"lun","name_uc":"Lunedì","name_to":"lunedì","shortest":"Lu","name":"lunedì"},"2″:{"name_lc":"martedì","name_from":"martedì","name_other_uc":"martedì","short_uc":"Mar","name_other":"martedì","name_to":"martedì","shortest":"Ma","name":"martedì","name_on":"il martedì","short":"mar","name_uc":"Martedì"},"3″:{"name_on":"il mercoledì","short":"mer","name_uc":"Mercoledì","name_to":"mercoledì","shortest":"Me","name":"mercoledì","short_uc":"Mer","name_other":"mercoledì","name_lc":"mercoledì","name_from":"mercoledì","name_other_uc":"mercoledì"},"4″:{"name_to":"giovedì","name":"giovedì","shortest":"Gi","name_on":"il giovedì","name_uc":"Giovedì","short":"gio","name_from":"giovedì","name_lc":"giovedì","name_other_uc":"giovedì","name_other":"giovedì","short_uc":"Gio"},"5″:{"name_on":"il venerdì","name_uc":"Venerdì","short":"ven","name_to":"venerdì","name":"venerdì","shortest":"Ve","name_other":"venerdì","short_uc":"Ven","name_from":"venerdì","name_lc":"venerdì","name_other_uc":"venerdì"},"6″:{"name_other_uc":"sabato","name_lc":"sabato","name_from":"sabato","short_uc":"Sab","name_other":"sabato","shortest":"Sa","name":"sabato","name_to":"sabato","short":"sab","name_uc":"Sabato","name_on":"il sabato"},"7″:{"short_uc":"Dom","name_other":"domenica","name_other_uc":"domenica","name_lc":"domenica","name_from":"domenica","short":"dom","name_uc":"Domenica","name_on":"la domenica","shortest":"Do","name":"domenica","name_to":"domenica"},"8″:{"name_to":"name_to","name":"Tutti i giorni","shortest":"shortest","name_on":"name_on","name_uc":"name_uc","short":"short","name_from":"name_from","name_lc":"every day","name_other_uc":"name_other_uc","name_other":"name_other","short_uc":"short_uc"}}, b_time_format: {"AM_symbol":{"name":"AM"},"PM_symbol":{"name":"PM"},"time":{"name":"{hour_24h_until24}:{minutes}"}}, "b_protocol": 'https', b01: 1, auth_level : "0", b_user_auth_level_is_none : 1, b_check_ot_consent : 1, bui: { color: { bui_color_grayscale_dark: "#333333", bui_color_grayscale: "#6B6B6B", bui_color_grayscale_light: "#BDBDBD", bui_color_grayscale_lighter: "#E6E6E6", bui_color_grayscale_lightest: "#F5F5F5", bui_color_primary_dark: "#00224F", bui_color_primary: "#003580", bui_color_primary_light: "#BAD4F7", bui_color_primary_lighter: "#EBF3FF", bui_color_primary_lightest: "#FAFCFF", bui_color_complement_dark: "#CD8900", bui_color_complement: "#FEBB02", bui_color_complement_light: "#FFE08A", bui_color_complement_lighter: "#FDF4D8", bui_color_complement_lightest: "#FEFBF0", bui_color_callout_dark: "#BC5B01", bui_color_callout: "#FF8000", bui_color_callout_light: "#FFC489", bui_color_callout_lighter: "#FFF0E0", bui_color_callout_lightest: "#FFF8F0", bui_color_destructive_dark: "#A30000", bui_color_destructive: "#CC0000", bui_color_destructive_light: "#FCB4B4", bui_color_destructive_lighter: "#FFEBEB", bui_color_destructive_lightest: "#FFF0F0", bui_color_constructive_dark: "#006607", bui_color_constructive: "#008009", bui_color_constructive_light: "#97E59C", bui_color_constructive_lighter: "#E7FDE9", bui_color_constructive_lightest: "#F1FEF2", bui_color_action: "#0071C2", bui_color_white: "#FFFFFF", bui_color_black: "#000000" } }, bb: { ibb: "", uibb: "", ibbta: "", itp: "0", iuibb: "", bme: "", euibb: "", tp: "2" }, b_growls_close_fast: 1, fe_enable_login_with_phone_number: 1, asyncLoader: { async_assistant_entrypoint_css: 'https://cf.bstatic.com/static/css/assistant_entrypoint_cloudfront_sd.iq_ltr/828028cb1433e9442a919c1a1ee87b1546789753.css', async_assistant_entrypoint_js: 'https://cf.bstatic.com/static/js/assistant_entrypoint_cloudfront_sd/eedfd8b3b2afb306a8e93fc59a4ca677762d4844.js', async_atlas_places_js: 'https://cf.bstatic.com/static/js/atlas_places_async_cloudfront_sd/9a9bcd998016ecc6409aa42c8605f7850a767a34.js', async_atlas_v2_cn_js: 'https://cf.bstatic.com/static/js/async_atlas_v2_cn_cloudfront_sd/998f9d0f02083e7e5ed04b9c515512ed9cd30072.js', async_atlas_v2_non_cn_js: 'https://cf.bstatic.com/static/js/async_atlas_v2_non_cn_cloudfront_sd/154353d95ba925f2449b32eaf36992ae229a5d3d.js', image_gallery_js: 'https://cf.bstatic.com/static/js/ski_lp_overview_panel_cloudfront_sd/9d8e7cfd33a37ffb15285d98f6970024f06cf36d.js', image_gallery_css: 'https://cf.bstatic.com/static/css/ski_lp_overview_panel_cloudfront_sd.iq_ltr/e905a114a7e2a2092dfa73ce9ac18c326a2d9a25.css', async_lists_js: 'https://cf.bstatic.com/static/js/async_lists_cloudfront_sd/ab3b0b4b65b0e7072d51d7b080a0e2ddff3e7c57.js', async_landing_pages_atlas_map_css: 'https://cf.bstatic.com/static/css/async_landing_pages_atlas_map_cloudfront_sd/37dd5f994615f1d53ac91016364e7faf487b414a.css', async_landing_pages_atlas_map_js: 'https://cf.bstatic.com/static/js/async_landing_pages_atlas_map_cloudfront_sd/894079343e5d30ff217699e15e2b4c26a6a4a010.js', async_wpm_overlay_css: 'https://cf.bstatic.com/static/css/async_wpm_overlay_assets_cloudfront_sd.iq_ltr/abb304bf3600a5cf5f7406a27f042cf1ce2429b1.css', async_wpm_overlay_js: 'https://cf.bstatic.com/static/js/async_wpm_overlay_assets_cloudfront_sd/c6cb9b63eea61102d4e96fe72b7c8008652fe925.js', empty: " }, fe_enable_fps_goal_with_value: 1, b_email_validation_regex : /^([w-.+]+@([w-]+.)+[w-]{2,14})?$/, b_domain_end : '.booking.com', b_original_url : 'https://www.booking.com/villas/region/it/sardegna.it.html', b_this_url : '/villas/region/it/sardegna.it.html?sid=abbded3383386115144255054f3c5249', b_this_url_without_lang : '/villas/region/it/sardegna.html?sid=abbded3383386115144255054f3c5249', b_referrer : 'http://www.bing.com/', b_acc_type : ", b_req_login: ", jst : {'loading': true}, keep_day_month: true, b_timestamp : 1642187405, scripts_tracking : { }, enable_scripts_tracking : 1, b_ufi : ", "setvar_affiliate_is_bookings2″ : 1, transl_close_x : 'Chiudi', transl_checkin_title: 'Check-in', transl_checkout_title: 'Check-out', browser_lang: ", b_hijri_calendar_available: false, b_aid: '357028', b_label: 'bin000jc-1DCAYYkgQocTh4SBRYA2hxiAEBmAEUuAEFyAEO2AED6AEB-AECiAIBqAICuAKNlYePBsACAdICJDExNWYyYmNiLWMzY2EtNGIwZi1iMTIwLWEyNDVlNmYzMjUwZdgCBOACAQ', b_sid: 'abbded3383386115144255054f3c5249', b_dest_id: '908', ip_country: 'it', country_currency: 'EUR', b_selected_currency: 'EUR', b_selected_currency_is_hotel_currency: "", b_selected_language: 'it', b_selected_language_country_flag: 'it', pageview_id: '2b2286c6af28005e', aid: '357028', b_csrf_token: 'zQLiYQAAAAA=-jpbT4BoIBS3h6qju15AsrCSh6Y2PUwBFuHakUAnhSYQ8q2X2OIJRakGd8VtzM8ln4PWC3aQZDTjZcYNNy7186s8x0c8Wx5JJBiJWHXndC4geRj6jo8LHFrh2Kn8wpiPiwDPcwtAvJnE76qQ1GILMDogbk9dnG_JyBmYsU45cckfXjVqHk5ntF7MlYV24YEjiruFKEBIHr6VeUeT', b_show_user_accounts_features: 1, b_browser: 'msie', b_browser_version: '11', et_debug_level: '0', icons: '/static/img', b_static_images: 'https://cf.bstatic.com/images/', b_currency_url: '/general.it.html?sid=abbded3383386115144255054f3c5249;tmpl=currency_foldout;cur_currency=EUR;cc1=it', b_languages_url: '/general.it.html?sid=abbded3383386115144255054f3c5249;tmpl=language_foldout', b_weekdays: [ {"b_is_weekend": parseInt( " ), "b_number": parseInt('1'), "name": 'lunedì', "short": 'lun', "shorter": 'lun', "shortest": 'Lu'}, {"b_is_weekend": parseInt( " ), "b_number": parseInt('2'), "name": 'martedì', "short": 'mar', "shorter": 'mar', "shortest": 'Ma'}, {"b_is_weekend": parseInt( " ), "b_number": parseInt('3'), "name": 'mercoledì', "short": 'mer', "shorter": 'mer', "shortest": 'Me'}, {"b_is_weekend": parseInt( " ), "b_number": parseInt('4'), "name": 'giovedì', "short": 'gio', "shorter": 'gio', "shortest": 'Gi'}, {"b_is_weekend": parseInt( " ), "b_number": parseInt('5'), "name": 'venerdì', "short": 'ven', "shorter": 'ven', "shortest": 'Ve '}, {"b_is_weekend": parseInt( '1' ), "b_number": parseInt('6'), "name": 'sabato', "short": 'sab', "shorter": 'sab', "shortest": 'Sa'}, {"b_is_weekend": parseInt( '1' ), "b_number": parseInt('7'), "name": 'domenica', "short": 'dom', "shorter": 'dom', "shortest": 'Do '}, {}], b_group: [], b_simple_weekdays: ['Lu','Ma','Me','Gi','Ve ','Sa','Do '], b_simple_weekdays_for_js: ['lun','mar','mer','gio','ven','sab','dom'], b_long_weekdays: ['lunedì','martedì','mercoledì','giovedì','venerdì','sabato','domenica'], b_short_months: ['gennaio','febbraio','marzo','aprile','maggio','giugno','luglio','agosto','settembre','ottobre','novembre','dicembre'], b_short_months_abbr: ['gen','feb','mar','apr','mag','giu','lug','ago','set','ott','nov','dic'], b_year_months: { '2022-1': {'name': 'gennaio 2022' }, '2022-2': {'name': 'febbraio 2022' }, '2022-3': {'name': 'marzo 2022' }, '2022-4': {'name': 'aprile 2022' }, '2022-5': {'name': 'maggio 2022' }, '2022-6': {'name': 'giugno 2022' }, '2022-7': {'name': 'luglio 2022' }, '2022-8': {'name': 'agosto 2022' }, '2022-9': {'name': 'settembre 2022' }, '2022-10': {'name': 'ottobre 2022' }, '2022-11': {'name': 'novembre 2022' }, '2022-12': {'name': 'dicembre 2022' }, '2023-1': {'name': 'gennaio 2023' }, '2023-2': {'name': 'febbraio 2023' }, '2023-3': {'name': 'marzo 2023' }, '2023-4': {'name': 'aprile 2023' } }, b_is_landing_page : 1, b_is_landing : 1, b_user_auth_level_is_none: 1, b_is_ie: 1, b_is_ie11: 1, b_is_fb_safe: 1, b_is_app: 1, first_page_of_results: true, b_partner_id: '483978', b_is_destination_finder_supported: 0, b_is_dsf: 0, b_pr_param: ", /* */ feature_profile_split_sb_checkbox: 1, inandaround_more: "Altro", b_signup_iframe_url: 'https://secure.booking.com' + '/login.html?tmpl=profile/signup_after_subscribe' + '&lang=it' , b_exclude_lang_firstname: 0, view_prices_enter_dates: 'Per visualizzare tariffe e disponibilità, inserisci le date del tuo soggiorno.', autocomplete_categories: { city: 'Città', region: 'Regioni', airport: 'Aeroporti', hotel: 'Hotel', landmark: 'Luoghi di interesse', country: 'Paesi', district: 'Quartieri', theme: 'Temi' }, autocomplete_skip_suggestions: 'Cerca altre opzioni', autocomplete_counter_label: 'Strutture nei dintorni', autocomplete : { property_nearby: '1 struttura nei dintorni', properties_nearby: ' strutture nei dintorni', hotel: 'struttura', hotels: 'strutture', hotels_nearby: 'Strutture nei dintorni' }, lists: { collection: [ { id: "0", name: "Il tuo prossimo viaggio", hotels_count: "0" } ] }, touch_os: false, calendar_days_allowed_number: 366, b_search_max_months: 16, b_run_ge_new_newsletter_login: 1, b_password_strength_msg: ['Non abbastanza lunga','Bassa','Media','Buona','Alta','Ottima'], b_passwd_min_length_error: 'La password deve essere di almeno 8 caratteri', b_password_must_be_numeric: 'Il codice PIN della tua prenotazione deve essere di 4 cifre. Riprova.', b_bkng_nr_must_be_numeric: 'Il numero di prenotazione deve essere di 9 cifre. Riprova.', b_blank_numeric_pin: 'Inserisci il codice PIN della prenotazione.', b_blank_bkng_nr: 'Inserisci il tuo numero di prenotazione.', password_cant_be_username: 'La password non può coincidere con l'indirizzo e-mail', b_show_passwd: 'Mostra la password', b_passwd_tooltip: 'Per aumentare la sicurezza della password, includi lettere, caratteri speciali e numeri', account_error_add_password: 'Inserisci una password', password_needs_8: 'La password deve essere di almeno 8 caratteri', error_sign_up_password_email_combo_01: 'Controlla l'indirizzo e-mail o la password e riprova.', social_plugins_footer: 1, b_lazy_load_print_css: 1, print_css_href: 'https://cf.bstatic.com/static/css/print/0cc4ce4b7108d42a9f293fc9b654f749d84ba4eb.css', 'component/dropdown-onload-shower/header_signin_prompt' : { b_action: "theme_landing_region" ,can_redirect: 1 ,redirect_uri: "https://account.booking.com/auth/oauth2?client_id=vO1Kblk7xX9tUn2cpZLS&bkng_action=theme_landing_region&redirect_uri=https%3A%2F%2Fsecure.booking.com%2Flogin.html%3Fop%3Doauth_return&response_type=code&lang=it&state=UvEBVpITan9VID0z9PzdcfHyWhDF9aiq80iFyoQkjzIyWJg1Ig4GSsfemLCpRFjvIK2f7OMEEpgiPoYHHQQ2njR0AgaLNgSmxFLDTujc4e8_jFrbFDO66Erc4xiXtxzl5WaIN-zYXrzjci36WCImIL-HtqfKmF02bzsczGWVJVcI4n6Yeb6eHq9F-Dv6rcL7IOfT_Bu2vmdfV0f9K-ACKx4Wb9b7_s5xeDZyb9aMC8W-KLR-JsROE0zpxMaftx4ImWmGV-LZFiEXoIhQ2P8ueXud9T626nfsPOA3QOgCDDnZUPfS-e1dTM5johYQuKRSb62A4Q&dt=1642187406&aid=357028" ,fe_can_see_genius_signed_out_communication: 1 }, b_hostname_signup: "www.booking.com", b_nonsecure_hostname: "https://www.booking.com", b_nonsecure_hostname_signup: "https://www.booking.com", b_fd_searchresults_url_signup: "", translation_customer_service_which_booking_no_specific: 'Nessuna prenotazione in particolare', stored_past_and_upcoming_bookings: [ ], global_translation_tags: {"zwsp":"u200b","nbsp":" ","rlm":"u200f","one_dot_leader":"u2024″,"lrm":"u200e","line_break":"u003cbru003e"}, b_rackrates_monitoring_running: true, b_wishlist_referrer : ", b_reg_user_last_used_wishlist: "", b_reg_user_wishlist_remaining: 1, is_user_center_bar: 1, b_site_experiment_user_center_bar: 1, b_reg_user_is_genius : "", profile_menu: { b_user_auth_level: 0, b_domain_for_app: "", b_query_params_with_lang_no_ext: "?sid=abbded3383386115144255054f3c5249", b_action: "theme_landing_region", b_site_info: {"is_iam_auth_allowed":1,"is_bookings_owned":1}, b_site_type: "www", b_companyname: "Booking.com", b_reg_user_full_name: "", b_is_genius_branded: "0", b_reg_user_is_genius: "", b_genius_dashboard_expiry_destfinder_url: "https://www.booking.com/destinationfinderdeals.it.html?sid=abbded3383386115144255054f3c5249;genius_deals_mode=1&genius_next_weekend=1", b_run_bb_pb_reports: "", b_bwallet_has_wallet: 0, b_bwallet_currency_html: "", b_bwallet_total_balance_p: "", b_bwallet_has_credit: "", b_bwallet_total_balance_euro: "", b_bwallet_hide_badge_profile_dropdown: "", b_rewards_has_reward: 0, b_reg_user_last_used_wishlist: "", b_genius_product_page_url: "https://www.booking.com/genius.it.html?sid=abbded3383386115144255054f3c5249", b_reg_user_five_bookings_challenge: "", b_reg_user_detail_name_email_hash: "", b_user_is_grap_eligible: "", b_grap_remove_raf_checks: 1, b_is_bbtool_admin: "", b_is_bbtool_user: "", fe_bbtool_permission_is_connected_to_bbtool: "", fe_this_url_travel_purpose_business: "https://secure.booking.com/company/search.it.html", fe_this_url_travel_purpose_leisure: "https://www.booking.com/index.it.html", fe_reservations_url_travel_purpose_business: "https://secure.booking.com/company/reservations.it.html", fe_reservations_url_travel_purpose_leisure: "https://secure.booking.com/myreservations.it.html", fe_my_settings_url: "https://account.booking.com/oauth2/authorize?aid=357028;client_id=d1cDdLj40ACItEtxJLTo;redirect_uri=https%3A%2F%2Faccount.booking.com%2Fsettings%2Foauth_callback;response_type=code;state=eyJteXNldHRpbmdzX3BhdGgiOiIvbXlzZXR0aW5ncyIsImFpZCI6MzU3MDI4fQ", fe_my_settings_url_travel_purpose_business: "https://secure.booking.com/mysettings.it.html", fe_my_settings_url_travel_purpose_leisure: "https://secure.booking.com/mysettings.it.html", fe_bbtool_can_see_tool_promos: "1", fe_bbtool_can_see_tool_promos: "1", fe_bbtool_blackout_user_company: "", fe_bbtool_redirect_personal_to_index: 1, b_reg_user_company_name: "", b_reg_user_company_name_escaped: "", b_reg_user_companyjoin_url: "", b_bbtool_product_page_url: "https://www.booking.com/business.it.html", b_is_ie7: "", b_this_url: "/villas/region/it/sardegna.it.html?sid=abbded3383386115144255054f3c5249", b_lang_for_url: "it", b_secure_hostname: "https://secure.booking.com", b_nonsecure_hostname: "https://www.booking.com", b_query_params_with_lang: ".it.html?sid=abbded3383386115144255054f3c5249", b_query_params_with_lang_no_ext: "?sid=abbded3383386115144255054f3c5249", b_query_params_delimiter: ";", b_reg_user_detail_dashboard_url: "", b_is_reg_user_city_guide_in_lang_available: "0", b_aspiring_user_fifth_booking_ufi : "", b_reg_user_aspiring_data: "", b_dummy_var_for_trailing_comma: false, b_ip_country: "", b_guest_country: "it", b_raf_multiple_campaigns: true, b_agent_is_no_robot: "", b_page_name : "theme_landing_region", b_landingpage_theme_type: "acctype", b_brewards_account_details: "", b_upcoming_rewards: "", b_rewards_reminder_is_on: 1, fe_rewards__game_over: "1", loyalty_program_rules: "", loyalty_program_status: "", loyalty_program_bonus_url: "", b_brewards_loyalty_program_account_type: "", b_user_has_mobile_app: "", b_aid: 357028, b_label: "bin000jc-1DCAYYkgQocTh4SBRYA2hxiAEBmAEUuAEFyAEO2AED6AEB-AECiAIBqAICuAKNlYePBsACAdICJDExNWYyYmNiLWMzY2EtNGIwZi1iMTIwLWEyNDVlNmYzMjUwZdgCBOACAQ", fe_show_travel_communities_menu_item: 1, fe_user_can_see_company_reservations: null, b_oauth_client_id: "vO1Kblk7xX9tUn2cpZLS", b_sso_logout_url: "", b_sso_logout_callback_url: "", fe_sso_logout_state: "", fe_blackout_mydashboard: "", fe_user_menu_aspiring_genius_link: false }, accounting_config: {"html_symbol":{"CLP":"CL$","INR":"Rs.","SGD":"S$","ARS":"AR$","EUR":"€","JPY":"¥","ILS":"₪","TRY":"TL","IDR":"Rp","CZK":"Kč","HKD":"HK$","PHP":"₱","PLN":"zł","RON":"lei","GBP":"£","USD":"US$","BRL":"R$","XPF":"CFP"},"decimal_separator":{"default":","},"num_decimals":{"RUB":"0″,"MGA":"0″,"IDR":"0″,"TMM":"0″,"ECS":"0″,"COP":"0″,"IQD":"3″,"JPY":"0″,"ISK":"0″,"KMF":"0″,"BIF":"0″,"TND":"3″,"PYG":"0″,"XAF":"0″,"LYD":"3″,"BHD":"3″,"DJF":"0″,"JOD":"3″,"AFA":"0″,"OMR":"3″,"VND":"0″,"default":"2″,"XOF":"0″,"TJR":"0″,"KWD":"3″,"LAK":"0″,"RWF":"0″,"TWD":"0″,"CLP":"0″,"VUV":"0″,"HUF":"0″,"MZM":"0″,"GNF":"0″,"XPF":"0″,"UGX":"0″,"BYR":"0″,"KRW":"0″},"currency_separator":{"GBP":"","USD":"","JPY":"","default":" "},"symbol_position":{"RON":"after","CZK":"after","default":"before","PLN":"after"},"group_separator":{"default":"."}}, distance_config: "metric", b_run_tfl_move_away_from_lightbox: true, b_wishlist_singlepage_url: 'https://secure.booking.com/mywishlist.it.html?sid=abbded3383386115144255054f3c5249', is_listview_page: true, b_this_weekend_checkin: "", b_this_weekend_checkout: "", b_next_weekend_checkin: "", b_next_weekend_checkout: "", b_official_continent: "", b_deals_continents : "", b_messenger_url: ", b_open_messenger: false, b_is_asian_user: ", b_days_to_checkin: ", b_extra_ajax_headers: {}, et_debug_level: '0', wl_squeak: { open_wishlist_from_profile: 'ZQafLebbMTSWEEdC', }, trip_types_squeaks : { dummyvar:false }, trackExperiment : function () {}, "error" : {} }, ensureNamespaceExists: function (namespaceString) { if (!booking[namespaceString]) { booking[namespaceString] = {}; } }, hotel: {}, experiments: {}, startup: {}, experiments_load: {}, startup_load: {}, promotions: {}, timestamp: new Date()}; function Tip() {}; (function (scope) { booking.env.b_sb_autocomplete_predictions_url = '/autocomplete_csrf'; booking.env.b_sb_autocomplete_predictions_method = 'GET'; booking.env.b_sb_googleplaces_carrier_url = 'https://carrier.booking.com/google/places/webautocompletesimple'; booking.env.b_sb_googleplaces_carrier_method = 'POST'; var params = scope.search_autocomplete_params = {}; params.v = '1'; params.lang = 'it'; params.sid = 'abbded3383386115144255054f3c5249'; params.aid = '357028'; params.pid = '2b2286c6af28005e'; params.stype = '1'; params.src = 'theme_landing_region'; params.eb = '0'; params.e_obj_labels = '1'; params.e_tclm = 1; params.add_themes = '1'; params.themes_match_start = '1'; params.include_synonyms = '1'; }(window.autocomplete_vars || booking.env)); ]]> -1 || document.cookie.indexOf('gitlab_runner') > -1) return; var w = window || {}; function loadTagContainer(){ if(B && B.et && B.et.stage) { B.et.stage('aaTBNZZJRLESPIDNJC', 1); B.et.stage('aaTBNZZJRLdQANAFQFaLESPIDNJC', 1); B.et.stage('aaTBNZZJRLESPIDNJDPBFO', 1); } (function(w,d,s,l,i){w[l]=w[l]||[];w[l].push({'gtm.start': new Date().getTime(),event:'gtm.js'});var f=d.getElementsByTagName(s)[0], j=d.createElement(s),dl=l!='dataLayer'?'&l='+l:";j.async=true;j.src= 'https://www.googletagmanager.com/gtm.js?id=GTM-5Q664QZ';f.parentNode.insertBefore(j,f); })(window,document,'script','dataLayer', 'GTM-5Q664QZ'); }; if(w.addEventListener){ w.addEventListener('load', loadTagContainer, false); } else if(w.attachEvent){ w.attachEvent('onload', loadTagContainer); } })(); ]]> Assistenza Coronavirus (COVID-19)
Ricevi indicazioni di viaggio ed eventuali informazioni sulle restrizioni agli spostamenti prima di partire.
Le nostre scelte top Prezzo più basso Stelle e prezzo Recensioni top (numero e punteggio)
Vedi le ultime tariffe e offerte .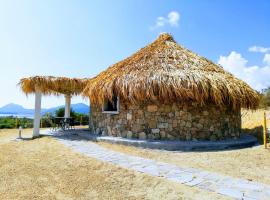 Agriturismo Dolceluna
Muravera
Situato a 1,2 km dalla Spiaggia di San Giovanni, l'Agriturismo Dolceluna offre un giardino, una terrazza e sistemazioni climatizzate con patio e connessione WiFi gratuita. We are still speechless. This property is something unreal, amazing and perfect in every single detail. It's a complex of 5 houses in a hill facing the sea and maybe the best sunrise you can see in Sardinia. These houses are built according to the old shepherd's tradition. There is a cozy living room full of everything you need (fridge, microwave, plates, glasses, etc). The host (grazie Veronica and Andrea) gave us also the basics to have a breakfast plus a bottle of delicious mirto! The bedroom and bathroom are immaculated. All is brand new! We spent our evenings in the garden and, oh man, if you are in need to relax this is the best place to stay. The only sound you can hear is just the pleasant bell of some goat over the hill. This place is simply amazing. The nearest village is San Priamo, just a few minutes drive where there is the best cappuccino at Cafe Number One. We stayed for 2 nights and we are planning to come over again next year for one full week to explore all the coast. We left our hearts there…Veronica and Andrea are just amazing, willing to help and making your stay unforgettable. We recommend this place to everyone!
Vedi di più Vedi di meno
9.6
Eccezionale
208 recensioni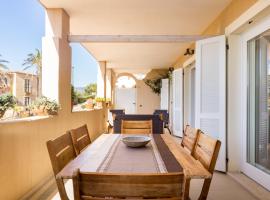 Appartamenti Shardana
Villasimius
Situato a Villasimius, a 1,3 km dalla spiaggia, l'Appartamenti Shardana offre una terrazza e sistemazioni climatizzate con WiFi gratuito. New property, quality materials, floor plan, functional furniture, bathroom hardware, silent AC/heat, comfy beds, big terrace and balcony, nice views, sunny side.
Vedi di più Vedi di meno
9.4
Eccellente
101 recensioni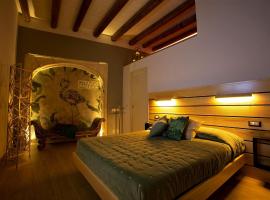 MYO Cagliari Charming House
Cagliari
Il MYO Cagliari Charming House si trova a Cagliari, nelle vicinanze di siti di interesse quali il Museo Archeologico Nazionale di Cagliari e la Fiera Internazionale della Sardegna, a 5 km dalla… Location strategica per visitare Cagliari a piedi, parcheggio a 5 minuti comodissimo, appartamento super curato e di design meraviglioso, colazione in camera con tutto il necessario, Raffaella la proprietaria molto disponibile si è prestata anche alle richieste dei miei amici per prepararmi una sorpresa per il compleanno davvero gentilissima. Consiglio a tutti
Vedi di più Vedi di meno
9.3
Eccellente
427 recensioni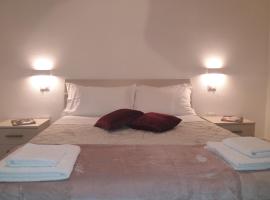 Depandance Machiavelli
Cagliari
Situata a Cagliari, vicino al Museo Archeologico Nazionale, a Via Dante e al Teatro Lirico, la Depandance Machiavelli offre la connessione WiFi gratuita e dispone di un giardino. The owner is so nice and helpful. The place is really beautiful, clean and at a perfect location. Would come again. 🙂
Vedi di più Vedi di meno
9.3
Eccellente
219 recensioni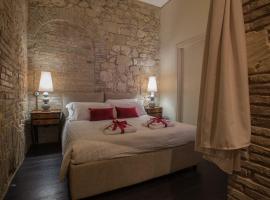 Suite via Sulis 61
Cagliari
Situata a Cagliari, a 2,2 km dalla Spiaggia di Giorgino e a 1,2 km dal Museo Archeologico Nazionale di Cagliari, la Suite via Sulis 61 offre una sistemazione con WiFi gratuito e TV a schermo piatto. everything was perfect ! beautiful, clean, central location. Very professional host
Vedi di più Vedi di meno
9.3
Eccellente
103 recensioni
Locanda D'Ogliastra,
Triei
Situata a Triei, a 13 km da Arbatax, la Locanda D'Ogliastra offre un salone in comune e la connessione WiFi gratuita. Inoltre, comprendono un bagno privato con bidet, accappatoi e asciugacapelli. Super nice place and super nice host. Nice room, bathroom with everyrhing you might need. Complimentary water and tea. Firdge and microwave available, balcony with the view of the village … really lovely place, close to Cala Goloritze or Pedra Longa. And be careful which road you take to the accomodation 🙂 We ended up driving on some dirt track (thank you navigation :D)
Vedi di più Vedi di meno
9.4
Eccellente
182 recensioni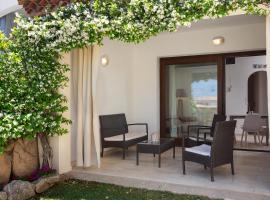 Le Maree Apartments
Cannigione
Le Maree Apartments si trova a Cannigione. Palau dista 14 km dalla struttura. Il parcheggio privato è gratuito. Comodità e vista incantevole!
Vedi di più Vedi di meno
9.3
Eccellente
100 recensioni
Sardinian Gallery
Bosa
Situato a Bosa, a 2,7 km dalla spiaggia di Cala 'e Moro, il Sardinian Gallery offre sistemazioni con aria condizionata e connessione WiFi gratuita. Siamo stati accolti dalla gentilezza di Marco e il soggiorno è proseguito in un appartamento molto curato e pulito in un bel palazzo storico nel centro di Bosa. Tutto perfetto e da consigliare. Peccato essere rimasti solo 2 giorni.
Vedi di più Vedi di meno
9.3
Eccellente
263 recensioni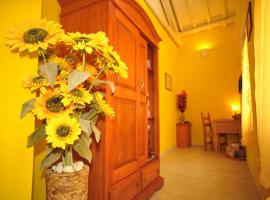 Aldebaran Centro Storico
Cagliari
Dotato di eleganti camere con bagno interno, connessione Wi-Fi gratuita e TV LCD, l'Aldebaran Centro Storico sorge nel centro storico di Cagliari, a 350 m dalla stazione ferroviaria e dalle navette… Excellent location, very kind hosts. Clean and decent size room with all the necessary amenities. It was quiet as well. Excellent choice for Cagliari. I recommend it.
Vedi di più Vedi di meno
9.3
Eccellente
247 recensioni
Domus Anna
Selargius
Domus Anna is located in Selargius. The air-conditioned accommodation is 45 km from Chia. La struttura è bellissima. Tutto perfetto. La proprietaria è gentilissima e molto disponibile. Consigliato.
Vedi di più Vedi di meno
9,2 Eccellente 16 recensioni

Appartamento fantastico, di grandi dimensioni al piano di sotto di una villetta.. I proprietari sono al piano di sopra, l'appartamento gode di tutti i confort, dalla grande camera e salone, la cucina attrezzatissima.. È se si vuole un grande Barbecue a disposizione , con tavolo all esterno.. Davvero ottimo, gentilissima la proprietaria.. Posizione tranquilla, silenzioso, per ogni direzione verso le spiagge.. Grazie ancora di tutto.

Vedi di più Vedi di meno

RobySan Viaggiatore singolo

Prezzo medio a notte: € 49

8,8 Favoloso 198 recensioni

Una bellissima villetta nella parte alta di Lanusei, ad un'altitudine che consente di dormire al fresco tra le morbide lenzuola offerte dalla struttura. L'oste è gentile e disponibile per ogni informazione circa i punti di interesse nelle vicinanze. Le camere sono ampie e pulite e la terrazza sul mare consente di godere delle insuperabili albe della costa orientale.

Vedi di più Vedi di meno

9,0 Eccellente 27 recensioni

L'appartamento è al piano terra di una villetta a schiera. E' caposchiera e quindi dispone del giardino sui lati e sul davanti. dispone di un comodo Barbecue da poter utilizzare durante il soggiorno. La cucina è funzionante ma non dispone di lavastoviglie. Le camere sono ampie e dispongono dell'aria condizionata.

Vedi di più Vedi di meno

Ivan Famiglia con figli piccoli

Prezzo medio a notte: € 157,30

9,5 Eccezionale 190 recensioni

L'ospitalità, le piccole villette, la colazione e la piscina a sfioro fanno da cornice ad un posto magico.

Vedi di più Vedi di meno

Alessandro Casagni Coppia giovane

9,0 Eccellente 13 recensioni

Villaggio tranquillo, molto verde, molto silenzioso. Villetta confortevole con tutto quanto necessario per un soggiorno confortevole.

Vedi di più Vedi di meno

Giuseppe Famiglia con figli piccoli
Cerca, scegli e pianifica l'intero viaggio
Inizio della finestra di dialogo
Come funziona?
Tutto inizia con la prenotazione

Tutto inizia con la prenotazione

Per lasciare un giudizio, è necessario prenotare e soggiornare presso una struttura: solo così possiamo assicurarci che le recensioni siano scritte da ospiti veri.

Seguita dal soggiorno…

Seguita dal soggiorno…

Durante il soggiorno i nostri ospiti possono verificare di persona la tranquillità della sistemazione, la gentilezza dello staff e molto altro.

… e infine, la recensione

… e infine, la recensione

Dopo il soggiorno gli ospiti possono esprimere un parere. Prima di mostrarli sul sito di Booking.com, controlliamo che i giudizi siano autentici e non contengano parole o frasi offensive.
Hai prenotato con noi e vuoi lasciare una recensione? Effettua l'accesso.
Fine della finestra di dialogo <![CDATA[ (function(){ (function(){ var et=function(){"use strict";var s,c={level:0},f={experiment:"e",stage:"s",goal:"g",customGoal:"cg",goalWithValue:"gwv"},r=[],o=function(){var n,r={},o="";function t(){var e,t=o;o=Object.keys(r).join(","),(n||(n=document.getElementById("req_info")))&&(n.innerHTML!==t&&(e=n.innerHTML,r=e.split(",").reduce(function(e,t){return e[t]=!0,e},r),o=Object.keys(r).join(",")),n.innerHTML=o)}function i(e){r[e]=!0}return{populate:function(e){i(e),"string"==typeof e?(i(e),t()):e instanceof Array&&(e.forEach(i),t())}}}(),i=function(){var r,o=!1,i=[],n=[],e=0;function a(){c.level&&c.report(c.events.BEACON_SENT,i),o=!1,e=0,r=null,i.length&&l()}function u(){o=!1,r=null,10<=++e?n=[]:(i=i.concat(n),n=[],r=window.setTimeout(l,100*e))}function l(){c.level&&c.report(c.events.SEND_BEACON,i.slice(0)),o=!0;var e=s+"&"+function(e){for(var t,n=[],r=[],o=[],i=[],a=[],u=0,l=e.length;u>0).toString(16)}function O(e,t,n){if(c.level&&c.report(c.events.TRACKING_ATTEMPT,{what:e,hash:t,id:n,variant:(e===f.experiment||e===f.stage)&&W(t)}),R(e,t,n))switch(e){case f.experiment:C(f.experiment,t),o.populate(t),N.m&&r.push(t),i(f.experiment,t);break;case f.stage:C(f.stage,t,n),o.populate(t+"|"+n),N.m&&r.push(t+"|"+n),i(f.stage,t,n);break;case f.goal:C(f.goal,t),i(f.goal,t);break;case f.customGoal:C(f.customGoal,t,n),i(f.customGoal,t,n);break;case f.goalWithValue:(function(e,t){_[e]||(_[e]=[[],[]]);var n=_[e][0];if(_[e][1].length<=y+10)return n.push(t),!0})(t,n)&&i(f.goalWithValue,t,n);break;default:c.level&&c.report(c.events.TRACK_UNKNOWN_ITEM,e,t,n)}return e!==f.experiment||W(t)}function C(e,t,n){h[A(e,t,n)]=!0}function R(e,t,n){if(m)return!1;c.level&&c.report(c.events.SHOULD_TRACK,e,t,n);var r,o,i={what:e,hash:t,id:n,variant:(e===f.experiment||e===f.stage)&&W(t)};if(h[A(e,t,n)])return c.level&&c.report(c.events.NOT_TRACKING_WAS_TRACKED,i),!1;if(e===f.experiment||e===f.stage){if(o=1<<(n||0),r=I(t),N.f[r])return c.level&&c.report(c.events.NOT_TRACKING_FULLON,i),!1;if(void 0===N.r[r])return c.level&&c.report(c.events.NOT_TRACKING_NOT_RUNNING,i),!1;if(N.t[r]&o)return C(e,t,n),c.level&&c.report(c.events.NOT_TRACKING_WAS_TRACKED,i),!1}else if(e===f.customGoal){if(r=I(t),N.f[r])return c.level&&c.report(c.events.NOT_TRACKING_FULLON,i),!1;if(void 0===N.r[r])return c.level&&c.report(c.events.NOT_TRACKING_NOT_RUNNING,i),!1}return!0}function G(n,e,r,o,i){c.level&&c.report(c.events.ADD_EVENT_LISTENER,n,e,r,o,i);var a=function(e){{if("string"==typeof e)return M(document.querySelectorAll(e));if(e instanceof HTMLCollection)return M(e);if(e instanceof NodeList)return M(e);if(e instanceof Element)return[e];if("[object Array]"===Object.prototype.toString.call(e))return e;if(window.jQuery&&e instanceof jQuery)return e.toArray()}return[]}(e);if(0'; booking.env.b_landingpage_theme = 'villas'; ]]>= 0 && value < 150000 || false; } function callback() { var performance = w.performance || w.mozPerformance || w.msPerformance || w.webkitPerformance || {}, navigation = performance.navigation, timing = performance.timing, hasGetEntries = !!performance.getEntriesByType, userTiming = []; if ( typeof timing !== 'object' || typeof navigation !== 'object') { return; } if ( timing.loadEventEnd == 0 ) { setTimeout(callback, 1000); return; } var domain = validMetric(timing.domainLookupEnd - timing.domainLookupStart), connect = validMetric( timing.connectEnd - timing.connectStart), response = validMetric( timing.responseEnd - timing.responseStart), dom = validMetric( timing.domComplete - timing.domLoading), load = validMetric( timing.loadEventEnd - timing.loadEventStart); if ( !domain || !connect || !response || !dom || !load || w._phantom || w.callPhantom || w.__phantomas || window.Buffer || window.emit || window.spawn ) { return false; } if (typeof RUMSpeedIndex === 'function') { var speedIndex; try { speedIndex = Math.round(RUMSpeedIndex()); } catch (e) { B.reportError && B.reportError(e, 'speedindex'); } if (speedIndex) { if (window.ga) { setTimeout(function(){ ga('send', 'timing', 'Performance', 'SpeedIndex', speedIndex, B.env['b_action']); }, 100); } userTiming.push('speedindex:' + speedIndex); } } if (hasGetEntries) { var utMetrics = performance.getEntriesByType('measure') || []; for ( var _tmp, _i = 0, _l = utMetrics.length; _i 1 ))) { s += T[0]; r.MN(V[2],r.MB(V[3])); s += T[0]; r.MN(V[4],r.MB(V[5])); s += T[0]; } else { s += T[0]; r.MN(V[2],r.MB(V[7])); s += T[0]; r.MN(V[4],r.MB(V[8])); s += T[0]; } s += [ T[2], r.MB(V[9]), T[3] ].join( '' ); if (r.MD(V[10])) { s += T[4]; } s += [ T[5], r.MB(V[2]), T[6], r.MB(V[2]), T[7], r.MB(V[11]), T[8] ].join( '' ); if (r.MD(V[10])) { s += T[9]; } s += [ T[10], r.MB(V[4]), T[11], r.MB(V[12]), T[12], r.MB(V[13]), T[13] ].join( '' ); return s; } s += T[0]; s = bookings2components_lists_lists_recently_viewed_lists_recently_viewed_inc1(s); s += T[0]; return s; }; } )()); ]]><![CDATA[ (function(B){ var tmp = B._onfly || [], fn; for (var i = 0, l = tmp.length; i <![CDATA[ (function(B){ var jstmpl = B && B.jstmpl, translations = jstmpl && jstmpl.translations; translations && translations.set && translations.set({"month":{"7":{"in_month":"a luglio"},"1":{"in_month":"a gennaio"},"11":{"in_month":"a novembre"},"5":{"in_month":"a maggio"},"4":{"in_month":"ad aprile"},"8":{"in_month":"ad agosto"},"6":{"in_month":"a giugno"},"10":{"in_month":"a ottobre"},"2":{"in_month":"a febbraio"},"9":{"in_month":"a settembre"},"3":{"in_month":"a marzo"},"12":{"in_month":"a dicembre"}},"bed_type":{"language_exception_8_11_name_withnumber":{"name_withnumber":"{bed_count} letti a castello matrimoniali "},"language_exception_6_1_name_withnumber":{"name_withnumber":"{bed_count} letto matrimoniale"},"language_exception_2_1_name_withnumber":{"name_withnumber":"{bed_count} letto matrimoniale alla francese"},"language_exception_3_1_name_lowercase_nobed":{"name_lowercase_nobed":"matrimoniale grande"},"language_exception_3_1_name_withnumber":{"name_withnumber":"{bed_count} letto matrimoniale large"},"language_exception_2_1_name_lowercase_nobed":{"name_lowercase_nobed":"matrimoniale alla francese"},"7":{"name_lowercase_nobed":"futon","name_withnumber":"{bed_count} futon"},"6":{"name_withnumber":"{bed_count} letti matrimoniali","name_lowercase_nobed":"matrimoniali"},"8":{"name_withnumber":"{bed_count} letti a castello matrimoniali","name_lowercase_nobed":"letti a castello matrimoniali"},"language_exception_4_1_name_withnumber":{"name_withnumber":"{bed_count} letto a castello"},"5":{"name_withnumber":"{bed_count} divani letto","name_lowercase_nobed":"divani letto"},"2":{"name_lowercase_nobed":"matrimoniali alla francese","name_withnumber":"{bed_count} letti matrimoniali alla francese"},"language_exception_1_1_name_lowercase_nobed":{"name_lowercase_nobed":"singolo"},"1":{"name_withnumber":"{bed_count} letti singoli","name_lowercase_nobed":"singoli"},"language_exception_5_1_name_lowercase_nobed":{"name_lowercase_nobed":"divano letto"},"language_exception_8_1_name_withnumber":{"name_withnumber":"{bed_count} letto a castello matrimoniale"},"language_exception_4_1_name_lowercase_nobed":{"name_lowercase_nobed":"letto a castello"},"language_exception_6_1_name_lowercase_nobed":{"name_lowercase_nobed":"matrimoniale"},"language_exception_1_1_name_withnumber":{"name_withnumber":"{bed_count} letto singolo"},"language_exception_8_1_name_lowercase_nobed":{"name_lowercase_nobed":"letto a castello matrimoniale"},"4":{"name_withnumber":"{bed_count} letti a castello","name_lowercase_nobed":"letti a castello"},"language_exception_7_1_name_withnumber":{"name_withnumber":"{bed_count} futon"},"language_exception_7_1_name_lowercase_nobed":{"name_lowercase_nobed":"futon"},"language_exception_8_8_name_withnumber":{"name_withnumber":"{bed_count} letti a castello matrimoniali "},"language_exception_5_1_name_withnumber":{"name_withnumber":"{bed_count} divano letto"},"3":{"name_lowercase_nobed":"matrimoniali grandi","name_withnumber":"{bed_count} letti matrimoniali grandi"},"9":{"name_withnumber":"bed","name_lowercase_nobed":"name_lowercase_nobed"}},"error":{"checkout_date_more_than_45_days_after_checkin":{"name":"Hai selezionato un periodo di oltre 45 notti. È possibile prenotare soggiorni per una durata massima di 45 notti. Modifica le date e prova di nuovo."},"checkout_date_more_than_30_days_after_checkin":{"name":"Hai selezionato un periodo di oltre 30 giorni. È possibile prenotare soggiorni per una durata massima di 30 giorni. Modifica le date e prova di nuovo."},"checkin_date_invalid":{"name":"Data check in non valida."}},"country":{"ge":{"name":"Georgia"},"xa":{"name":"Abkhazia"}},"private":{"gex_clp_sign_in_banner_header_sign_in_save":"Accedi e risparmia","gex_google_popup_email":"Accedi per sbloccare sconti e offerte!","incentives_index_landing_error_link_expired_cta":"Ok","beach_bs_quiz_cta_back_web":"Indietro","raf_flex_post_signin_modal_button":"Vedi le strutture","search_xp_sb_manual_tooltip_month":"Mese del soggiorno","fe_cc_transport_info_general":"Info sui trasporti","pp_index_popup_bpg_how_to_1":"Hai trovato la tua prenotazione a un prezzo più basso da qualche altra parte?","paycom_billing_address_state_or_province":"Provincia o stato","hp_book_button_reserve":"Prenota ora","gex_w_index_white_banner_cta":"Accedi","language_exception_d_dmw_wl_num_properties_saved_11":"{num_properties_saved} strutture salvate","review_adj_pleasant":"Carino","pb_google_place_shoe_store":"Negozio di scarpe","pb_google_place_subway_station":"Stazione della metropolitana","lists_add_to_list":"Salva la struttura","ar_islamic_calendar_shawwal":"Shawwal","bh_gwe_sr_card_entire_unit_studio":"{num} interi monolocali","iq_sbox_error_flights_return_date_invalid":"La data di ritorno non è valida.","language_exception_deals_countdown_singlesday19_seconds_11":"SECONDI","pdi_index_popup_wpm_bullet_1":"L'altra offerta dev'essere per la stessa struttura ricettiva e la stessa tipologia di alloggio.","iq_sbox_flights_roundtrip":"Andata e ritorno","pb_room_disclaimer":"Questa è solo una foto di esempio per questa tipologia. L'aspetto di ciascuna camera può variare.","beach_sr_left_side_module_beach_details":"Più info","bh_gwe_sr_privacy_private_apartment":"{num} appartamenti privati","lists_email_success_message":"Evvai! Messaggio inviato.","iq_sbox_flights_month_of_return":"Mese di ritorno","iq_sbox_accomm_check_out":"Check-out","bh_gwe_sr_privacy_no_descriptor_mobile_home_one":"{num} casa mobile","d_dmw_wl_simple_steps_3":"Qui troverai tutto quello che hai salvato","cashback_badge_tooltip_copy":"L'importo finale del tuo cashback può variare in base al tasso di cambio. Tasse e altri costi aggiuntivi potrebbero non essere inclusi nell'importo del cashback.","language_exception_a11y_travheader_view_notifications_count_8":"Hai {num_notifications} notifiche da leggere","sbox_calendar_num_nights_2":"da {start_bold}{checkin_date}{end_bold} a {start_bold}{checkout_date}{end_bold} (soggiorno di {num_nights} notti)","msg_lc_notification_in_browser":"{agentname} dell'Assistenza Clienti","language_exception_gsb_hp_book_now_cta_apartments_1":"{num} appartamento per {group_recommendation_price}","iq_sbox_cars_date_of_arrival":"Data di riconsegna","list_dropdown_email_first_name":"Nome","index_sbox_children_aria":"Numero di bambini","iq_sbox_error_flights_return_after_departure":"Seleziona una data di ritorno successiva a quella di partenza","header_my_lists":"Preferiti","language_exception_msg_lc_tab_new_1":"Nuovo messaggio nella chat - Booking.com","ls_error_max_los_exceeded_p2":"È possibile prenotare solo per un massimo di {max_num_nights} notti. Correggi le date e riprova.","language_exception_beach_side_header_closest_8":"Spiagge più vicine","pb_google_place_grocery_or_supermarket":"Supermercato/alimentari","days":"giorni","lists_map_list_name_zhtw":"List name","iq_sbox_error_cars_arrival_after_departure":"Seleziona una data di riconsegna successiva a quella di ritiro.","language_exception_fame_search_age_explain_11":"Per trovare un alloggio con spazio per tutti e mostrarti i prezzi esatti, dobbiamo conoscere l'età dei bambini al momento del check-out.","pb_google_place_jewelry_store":"Gioielleria","bh_gwe_sr_bed_choice_single_bunk_colon_hardcode":"Letti: 2 singoli o 1 a castello","sp_rewards_instant_reward_badge":"Premio di {reward_value}","sxp_index_sbox_horizontal_age_of_children_q":"Quanti anni hanno i bambini con cui viaggi?","wl_saved_to":"Struttura salvata in: {start_link}{list_name}{end_link}","sp_sr_hotel_card_cashback":"Cashback di {currency_amount}","paycom_billing_address_postal_code":"CAP","bh_gwe_sr_privacy_private_room":"{num} camere private","paycom_validate_tpv_billing_address_city":"Inserisci un nome valido per la località","checkout_form_invalid_postal_code":"Inserisci un CAP valido","raf_instant_discount_flex_modal_step3_paylater_percent":"Paga in struttura e ottieni un rimborso del {value_percent_friend}% dopo il viaggio.","checkout_form_pay_method":"Paga {/payment_method/[method]/pay_with}","lists_distance_metric_1":"{distance} miglia dal centro di {ufi}","language_exception_d_dmw_wl_num_properties_saved_1":"{num_properties_saved} struttura salvata","language_exception_bh_gwe_sr_card_entire_unit_villa_8":"{num} intere ville","raf_friend_lightbox_step_1":"Step 1","language_exception_beach_sr_header_see_beaches_11":"Vedi tutte le spiagge","list_dropdown_add_email":"Aggiungi indirizzo e-mail","wishlist_delete_prompt":"Desideri proseguire? Questa azione non potrà essere annullata.","lists_endorsement_highly_rated":"{ufi_name} è consigliatissima per: {interest_point}","beach_review_adj_average_okay":"Spiaggia OK","iq_sbox_flights_date_of_departure":"Data di partenza","beach_sr_header_see_beaches":"Vedi tutte le spiagge","sbox_num_adults":"{num_adults} adulti,","language_exception_bh_gwe_sr_privacy_private_apartment_11":"{num} appartamenti privati","acc_cal_open_open":"Hai aperto il widget del calendario","language_exception_gsb_hp_book_now_cta_holiday_1":"{num} casa vacanze per {group_recommendation_price}","fit_search_child_selector_subtitle":"0-17 anni","bbt_notifications_new_join_configure_link":"Inizia la configurazione","sbox_num_children":"{num_children} bambini","list_my_lists_onbaording_box_line1":"Usa "Le tue liste" per salvare, confrontare e prenotare solo le strutture migliori!","language_exception_bh_sr_num_bed_type_without_bed_bunk_11":"{num} letti a castello","list_dropdown_email_last_name_example":"Rossi","iq_sbox_flights_departure":"Data di partenza","bh_gwe_sr_card_entire_unit_apartment":"{num} interi appartamenti","please_enter_your_check_out_date":"Inserisci la data di partenza.","language_exception_bh_ss_sxp_index_sbox_calendar_num_week_stay_11":"(soggiorno di {num_weeks} settimane)","dsf_rename_list_dialogue_zhtw":"Enter a new name for this list","raf_friend_landing_modal_save_for_later_cta":"Salva per dopo","msg_lc_alt_messaging_platform":"Hai {number} nuovi messaggi","sbox_error_checkin_future":"Seleziona una data di check-in che non sia già trascorsa","ar_islamic_calendar_hijri_on":"Show Hijri","language_exception_bh_gwe_sr_privacy_shared_bathroom_room_1":"Camera con bagno condiviso","d_dmw_wl_calendar_occupancy_adults":"{num_adults} adulti ","raf_friend_lightbox_button_text":"OK!","list_my_lists_onbaording_box_comp":"Confronta","gsb_hp_book_now_cta_room":"{num} camere per {group_recommendation_price}","gsb_hp_book_now_cta_chalet":"{num} chalet per {group_recommendation_price}","language_exception_bh_gwe_sr_privacy_entire_bungalow_1":"Intero bungalow","hotel_header_new_num_reviews":"{num_reviews} giudizi","recently_viewed_list_v2":"Non perdere di vista la tua struttura preferita.","ls_error_max_los_exceeded_p1":"Tra la data di check-in e quella di check-out ci sono più di {max_num_nights} notti.","bbt_searchbox_travellers":"Viaggiatori","bh_gwe_sr_privacy_shared_bathroom_room":"{num} camere con bagni condivisi","raf_desktop_friend_modal_how_it_works_header":"Come funziona","msg_entry_meet_assistant_header":"Ti presentiamo Booking Assistant","iq_sbox_accommodation_num_rooms":"{num_rooms} camere","pdi_index_popup_wpm_bullet_3":"L'altra offerta deve avere le stesse condizioni e gli stessi termini di cancellazione.","m_sxp_calendar_date_select_choose_checkin":"Seleziona una data di check-in","bh_gwe_sr_privacy_entire_apartment_one":"{num} intero appartamento","msg_wlm_screen_start_button":"Continua","language_exception_bh_sr_num_bed_type_without_bed_xl_double_8":"{num} matrimoniali grandi","gex_clp_sign_in_banner_subheader_simple_step":"Sblocca gli sconti Genius in tutto il mondo con un semplice passaggio.","acc_index_choose_checkout_date_arrowkeys":"Scegli la data di check-out usando le frecce sulla tastiera","pb_google_place_train_station":"Stazione dei treni","lists_endorsement_perfect_stay":"Trova il soggiorno perfetto per te!","language_exception_bh_gwe_sr_privacy_private_suite_11":"{num} suite private","rates_rocket_sr_num_results_accom_partners":"Stai visualizzando tutte le strutture, più altre {num} offerte esclusive messe a disposizione da {rocket_brand_name}","pb_google_place_casino":"Casinò","free_capitals_cancellation":"Cancellazione gratuita","bb_business_or_leasure_cta_lt":"Indica come viaggio di piacere","pp_index_popup_bpg_how_to_4″:"Puoi anche contattare la nostra {start_link}Assistenza Clienti{end_link}.","beach_hp_explore_nearby_panel_header":"Nei pressi di {property_name}","acc_index_child_age_screenread":"Età bambino {child_number}","language_exception_bh_gwe_sr_privacy_entire_apartment_11″:"{num} interi appartamenti","raf_friend_lightbox_subtitle_noname":"(E ricordati di ringraziare il tuo amico!)","paycom_form_new_card":"Usa la nuova carta","language_exception_bh_gwe_sr_privacy_entire_chalet_8″:"{num} interi chalet","language_exception_bh_gwe_sr_privacy_entire_holiday_home_1″:"Intera casa vacanze","account_sign_in_one_tap_verifying_body":"Accesso a {b_companyname}","search_guest_type_adults":"Adulti","iq_sbox_cars_current_location":"Posizione attuale","ace_wishlist_name_your_list":"Dai un nome alla tua lista","pex_flights_sb_num_travellers":"{num_travel} viaggiatori","checkout_form_cvc_tooltip_4_digit":"Il tuo codice di sicurezza di 4 cifre è stampato sopra al numero della carta","bh_gwe_sr_privacy_shared_dorm_room":"{num} dormitori condivisi","recently_viewed_list_v7″:"Portami alla lista","language_exception_bh_gwe_sr_privacy_shared_dorm_room_1″:"Dormitorio condiviso","a11y_link_content_change_dialog_box":"Il contenuto della finestra di dialogo è cambiato","pb_google_place_department_store":"Grande magazzino","bb_business_or_leasure_cta_bt":"Indica come viaggio di lavoro","language_exception_deals_countdown_singlesday19_days_8″:"GIORNI","msg_privacy_policy_en_only":"Informativa sulla privacy e termini di utilizzo","checkout_pay_fe_bp_hybrid_payment_step_3″:"Se il pagamento va a buon fine, riceverai la conferma della prenotazione","all_deals_1″:"Super occasione","iq_sbox_rental_cars_location":"Luogo di ritiro","language_exception_sbox_dates_num_nights_1_1″:"Soggiorno di 1 notte","iq_sbox_rentalcars_current_location":"La tua posizione","acc_cal_open_notification":"Hai aperto il calendario per selezionare le date del soggiorno","conf_email_num_nights":"{num_nights} notti","beach_review_adj_average_passable":"Spiaggia passabile","app_marketing_www_landing_anti_fraud_cta":"Tocca e tieni premuto per inviare il link","loading":"Caricamento","loc_m_social_connect_naver_sign_up":"Sign up with Naver","language_exception_lists_unit_distance_metric_1″:"1 km dal centro di {ufi}","raf_friendlanding_index_lightbox_step3_description_cc":"Ricevi il tuo premio direttamente sulla tua carta di credito.","language_exception_ss_sxp_index_sbox_calendar_num_night_stay_11″:"(soggiorno di {num_nights} notti)","iq_sbox_cars_year_of_departure":"Anno di ritiro","traveller_header_cta_sign_in":"Accedi","language_exception_a11y_travheader_view_notifications_count_11″:"Hai {num_notifications} notifiche da leggere","pd_rt_credit_message_in_total_column":"Riceverai {start_bold}{amount_with_currency} di credito{end_bold} con questa prenotazione.","deals_price_watch_2″:"Hai attivato un avviso prezzi per questa struttura, per assicurarti le migliori offerte disponibili.","raf_friend_landing_modal_after_saving_button":"Rimuovi questo premio","bb_sr_remove_filter":"rimuovi","pb_google_place_bowling_alley":"Bowling","ar_islamic_calendar_dhul_hijjah":"Dhul Hijjah","recently_viewed_list_name_dropdown_explanation_box_subheader":"Ora puoi vedere una lista delle {start_link}strutture che hai visto di recente.{end_link}","copy_maps_hp_back_to_property":"Torna alla struttura ","paycom_billing_address_save_card_and_address":"Salva la carta e l'indirizzo di fatturazione per pagare più velocemente in futuro","raf_desktop_invalid_link_no_reward":"Questo link "Presentaci un amico" non è valido. Puoi prenotare lo stesso una struttura, ma non riceverai il premio.","language_exception_a11y_travheader_view_notifications_count_1″:"Hai {num_notifications} notifica da leggere","raf_desktop_friend_modal_faq":"{start_link}Domande frequenti{end_link}","sbox_rooms":"Camere","language_exception_ls_error_max_los_exceeded_p1_8″:"Tra la data di check-in e quella di check-out ci sono più di {max_num_nights} notti.","ppd_survey_oct18_price_clarity_progress":"Avanzamento","language_exception_bh_gwe_sr_privacy_no_descriptor_empty_spot_1″:"Piazzola","ar_islamic_calendar_two_years":"{first_hijri_month} {first_year}/{second_hijri_month} {second_year}","bh_mup_sr_sb_obp_tooltip_right_price":"Alcuni prezzi dipendono da quante persone soggiorneranno. Seleziona il numero di ospiti per vedere il costo esatto del tuo viaggio.","geo_beach_waves_strong":"Onde alte","please_take_a_few_seconds":"Ti preghiamo di dedicarci qualche minuto per rispondere a un {quick_surveyLink}breve sondaggio{endLink}.","deals_countdown_singlesday19_minutes":"MINUTI","ar_islamic_calendar_shaban":"Sha'ban","bh_gwe_sr_privacy_hotel_room_one":"{num} camera di hotel","convert_incentives_landing_modal_tcs_cta":"Termini e condizioni","list_dropdown_email_header":"Invia "{list_name}" ai tuoi amici così anche loro potranno vederla","iq_sbox_flights_current_location":"Aeroporto più vicino","destination_finder_num_endorsements":"{num_endorsement_count} raccomandazioni","pb_google_place_food":"Cibo","language_exception_hp_saved_to_num_lists_1″:"Salvata in 1 lista","pb_google_place_bakery":"Pasticceria","iq_sbox_error_flights_departure_date_too_far_future":"La data di partenza è troppo avanti nel tempo. Ti preghiamo di riprovare.","language_exception_pex_flights_sb_num_travellers_1″:"{num_travel} viaggiatore","language_exception_bh_gwe_sr_privacy_hotel_room_11″:"{num} camere di hotel","index_sbox_adults_aria":"Numero di adulti","auth_next_step_send_code_cta":"Invia di nuovo il codice di verifica","acc_index_checkin_calendar_opened":"Hai aperto il calendario del check-in","lists_cta_button_v1″:"Più informazioni","clear_urgency_list_not_available":"Non disponibile sul nostro sito in queste date:","per_night":"a notte","ski_autocomplete_ski_resort":"Stazione sciistica","review_adj_average_okay":"OK","checkout_form_incorrect_expiration":"Inserisci la data di scadenza. La carta di credito che utilizzi deve essere valida fin dopo la prenotazione","sbox_error_30_night_res":"Ci dispiace, ma non è possibile prenotare per più di 30 notti","night":"notte","raf_deals_easter19_subheader_wallet":"Con le Offerte di Pasqua risparmi almeno il 20%: prenotare non è mai stato così conveniente!","bh_gwe_sr_privacy_no_descriptor_empty_spot":"{num} piazzole","ss_uni_search_ac_landmark_type_district":"Quartiere","language_exception_bh_gwe_sr_privacy_entire_apartment_1″:"Intero appartamento","language_exception_bh_gwe_sr_privacy_no_descriptor_tent_11″:"{num} tende","language_exception_bh_gwe_sr_privacy_no_descriptor_mobile_home_1″:"Casa mobile","my_list_date_button_v1″:"Verifica disponibilità e prezzi","lists_save_this_list_yes":"Sì","m_sr_distance_from_centre_city":"A {distanceInKmFromCentre} dal centro di {city_name}","beach_bs_quiz_when_question_may_web":"Mag","list_my_lists_onbaording_box_comp_msg":"Scegli le date e confronta i prezzi e la disponibilità delle strutture nella lista.","d_dmw_wl_simple_steps_1″:"Cerca una struttura dove soggiornare","a11y_hp_bookmarks_button_hover":"Le tue liste","iq_sbox_error_dates":"Seleziona una data che non sia già trascorsa.","language_exception_lists_distance_metric_1_1″:"1 miglio dal centro di {ufi}","language_exception_sbox_num_children_0″:"{num_children} bambini","ar_islamic_calendar_warning_message":"Please note : Only the Gregorian date will be submitted in the reservation.","review_adj_fabulous":"Favoloso","language_exception_bh_sr_num_bed_type_without_bed_sofa_8″:"{num} divani letto","language_exception_bh_gwe_sr_card_entire_unit_studio_1″:"Intero monolocale","language_exception_bh_gwe_sr_card_entire_unit_studio_8″:"{num} interi monolocali","wl_no_availability_change_dates_cta":"Modifica le date","gsb_hp_book_now_cta_holiday":"{num} case vacanze per {group_recommendation_price}","d_dmw_wl_no_review_score_info":"Per calcolare il punteggio sono necessari almeno {min_num_reviews} giudizi. Puoi contribuire anche tu: prenota {property_name} e dopo il soggiorno lascia una recensione!","checkout_form_invalid_expiration":"La tua carta deve avere una data di scadenza valida.","lists_wishlist_note-saved":"Salvato!","checkout_experiences_attractions_code_activation_cvc":"CVC","geo_beach_waves_moderate":"Onde moderate","list_icon_tooltip_list_view":"Vedi elenco","language_exception_destination_finder_theme_endorsements_1″:"{start_style}1{end_style} ospite ha confermato che questo posto è perfetto per {start_style}"{theme_name}"{end_style}","bh_gwe_sr_privacy_entire_villa":"{num} intere ville","welcome_to_your_lists":"Ti diamo il benvenuto nelle tue liste!","raf_desktop_friend_modal_step_two_subhead":"Relax e divertimento a non finire…","checkout_form_enter_cvc_code":"Inserisci il codice di sicurezza di 3 o 4 cifre","bh_gwe_sr_privacy_hotel_room":"{num} camere di hotel","checkout_form_3_digit_cvc":"Inserisci il codice di sicurezza di 3 cifre che trovi sul retro della tua carta","bh_ss_sxp_index_sbox_calendar_num_week_stay":"(soggiorno di {num_weeks} settimane)","raf_friend_lightbox_subtitle":"(E ricordati di ringraziare {friend_name}!)","beach_bs_quiz_when_question_july_web":"Lug","a11y_gex_web_index_banner_globe":"Immagine di un mappamondo con il logo blu Genius","language_exception_gsb_hp_book_now_cta_alt_8″:"{num} unità per {group_recommendation_price}","raf_instant_discount_flex_modal_cta_signin_register":"Accedi o registrati","pdi_index_popup_wpm_bullet_4″:"Se l'altra offerta è in "formula roulette", ovvero si trova su un sito che svela la struttura ricettiva soltanto dopo aver prenotato.","iq_sbox_error_cars_departure_date_invalid":"La data di ritiro non è valida.","sxp_index_sbox_horizontal_age_at_checkout":"Età il giorno del check-out","destination_finder_theme_endorsements":"{start_style}{num_endorsement_guests}{end_style} ospiti hanno confermato che questo posto è perfetto per {start_style}"{theme_name}"{end_style}.","language_exception_rates_rocket_sr_num_results_accom_partners_11″:"Stai visualizzando tutte le strutture, più altre {num} offerte esclusive messe a disposizione da {rocket_brand_name}","loc_sbox_children_age_singular":"Età del bambino il giorno del check-out","paycom_form_toggle_save_card_for_future":"Salva questa carta per acquisti futuri","lp_sxp_sb_calendar_drop_off":"Riconsegna","deals_price_watch2″:"Non perderti il prezzo più basso. Crea un avviso prezzi e ti informeremo se il prezzo cambia.","language_exception_sbox_num_adults_1″:"1 adulto,","raf_desktop_friend_modal_subhead_no_name":"Grazie all'amico che ti ha inviato il link riceverai {value_friend} se prenoti con noi e soggiorni. Provare per credere!","checkout_success_payment_completed_generic":"Pagamento effettuato","comp_reviews_no_comments":"Il cliente non ha lasciato un commento","bh_gwe_sr_privacy_entire_villa_one":"{num} intera villa","iq_sbox_flights_return":"Data di ritorno","language_exception_bh_ss_sxp_index_sbox_calendar_num_week_stay_1″:"(soggiorno di {num_weeks} settimana)","bh_gwe_sr_privacy_private_apartment_one":"{num} appartamento privato","lists_wishlist_remove_note":"Cancella","bhpmc_gallery_virtual_tour_instructions":"Per vedere gli interni dell'alloggio, clicca e trascina","language_exception_sxp_lp_sbox_num_children_1″:"{num_children} bambino","raf_flex_post_signin_modal_subtext_fixed_cc":"Scegli dove soggiornare e ricevi un rimborso di {value_friend}.","sbox_children":"Bambini","iq_sbox_error_flights_group_size":"Possiamo cercare voli per gruppi di 6 persone al massimo. Aggiorna il numero di viaggiatori.","raf_instant_discount_flex_modal_headline_percent":"Risparmia il {value_percent_friend}% sulla tua prenotazione","auth_2fa_recovery_flow_confirm_phone_number_cta":"Conferma numero di telefono","gs_index_model_desc_family":"Inserisci questa informazione per trovare la struttura ideale per la tua famiglia.","loc_social_connect_google_sign_up":"Iscriviti con Google","language_exception_msg_lc_alt_messaging_platform_8″:"Hai {number} nuovi messaggi","language_exception_bh_sr_num_bed_type_without_bed_bunk_8″:"{num} letti a castello","language_exception_bh_sr_num_bed_type_without_bed_large_11″:"{num} matrimoniali","language_exception_fame_search_age_explain_8″:"Per trovare un alloggio con spazio per tutti e mostrarti i prezzi esatti, dobbiamo conoscere l'età dei bambini al momento del check-out.","raf_flex_post_signin_modal_headline_noname":"Stai prenotando con il premio passaparola del tuo amico","lp_sxp_sb_calendar_pick_up":"Ritiro","raf_flex_post_signin_modal_subtext_percent_wallet":"Scegli dove soggiornare e ricevi il {value_percent_friend}% di rimborso sulla prenotazione in credito di viaggio.","paycom_form_cvc":"CVC","language_exception_d_dmw_wl_calendar_occupancy_adults_11″:"{num_adults} adulti ","sxp_sbox_num_properties_left_of_cta_v2″:"{num_properties} strutture trovate per la tua ricerca","language_exception_bh_gwe_sr_card_entire_unit_holidayhome_11″:"{num} intere case vacanze","convert_incentives_index_card_copy_cta_copied":"Copiato!","checkout_form_more_options":"Altre opzioni","raf_desktop_friend_modal_cta_button":"Inizia la ricerca","bdot_x_rooms_left_urgency":"Solo {num_left} rimanenti sul nostro sito!","checkout_form_no_cc":"Inserisci il numero della carta","language_exception_deals_countdown_singlesday19_minutes_11″:"MINUTI","language_exception_bh_gwe_sr_privacy_entire_chalet_1″:"Intero chalet","bh_sr_num_bed_type_without_bed_single":"{num} singoli","language_exception_bh_sr_num_bed_type_without_bed_futon_1″:"{num} futon","recently_viewed_list_v4″:"Salva questa struttura in una lista","pb_google_place_taxi_stand":"Parcheggio taxi","language_exception_deals_countdown_singlesday19_seconds_8″:"SECONDI","m_loc_sr_hc_travel_time_hours":"{num_hours} h","incentives_index_landing_error_link_expired_header":"Purtroppo questo link è scaduto","rates_rocket_discount_badge":"{percent}% di sconto","pb_google_place_night_club":"Locale notturno","language_exception_sxp_lp_sbox_num_adults_1″:"{num_adults} adulto","language_exception_sxp_index_sbox_horizontal_age_of_children_q_11″:"Quanti anni hanno i bambini con cui viaggi?","a11y_sb_decrease_button_aria":"Diminuisci il numero di {stepper_title}","paycom_validate_tpv_billing_address_state_or_province":"Inserisci una provincia o uno stato validi","search_xp_sb_manual_tooltip_day":"Data del soggiorno","auth_2fa_recovery_flow_code_sent_status":"Ti abbiamo inviato un codice di verifica temporaneo con cui potrai accedere al tuo account","ar_islamic_calendar_safar":"Safar","clear_urgency_only_x_rooms_left":"Solo {amountRooms} camere rimaste sul nostro sito!","language_exception_deals_countdown_singlesday19_days_11″:"GIORNI","language_exception_d_dmw_wl_num_properties_saved_8″:"{num_properties_saved} strutture salvate","paycom_validate_tpv_billing_address_street":"Inserisci una via/piazza valida","hp_roomtable_rackrate_tooltip_06_dehotel":"l prezzi barrati si basano sulle tariffe attualmente applicate dalla struttura in un periodo di 30 giorni intorno alla tua data di check-in. Per garantirti una comparazione equa, ci assicuriamo che le condizioni di prenotazione (pasti, politica di cancellazione e tipologia di camera) siano le stesse.","search_box_result_your_search":"Showing results for "{user_searched_term}"","beach_bs_quiz_when_question_feb_web":"Feb","loc_character_comma":", {zwsp} ","review_adj_disappointing":"Deludente","m_sxp_calendar_date_select_date_range":"{checkin_date} – {checkout_date}","ios_ace_wishlist_show_on_map":"Vedi sulla mappa","beach_bs_quiz_when_question_dec_web":"Dic","list_my_lists_onbaording_box_book":"Prenota","raf_deals_easter19_cta":"Vedi offerte","pdi_index_wpm_popup_desc":"{startBold}Puoi richiedere il rimborso della differenza se trovi su un altro sito la stessa offerta che hai prenotato, a un prezzo più basso.{endBold}","raf_friend_lightbox_step_2″:"Step 2″,"all_deals_3″:"Offerta LastMinute","a11y_auth_2fa_recovery_flow_confirm_phone_number_country_select_label":"Seleziona il tuo Paese","iq_sbox_error_cars_arrival_date_invalid":"La data di riconsegna non è valida.","lists_wishlist_write_note":"Scrivi qui i tuoi appunti","language_exception_d_dmw_wl_calendar_occupancy_adults_8″:"{num_adults} adulti ","raf_instant_discount_flex_modal_step3_paylater_fixed":"Paga in struttura e ottieni un rimborso di {value_friend} dopo il viaggio.","iq_sbox_flights_return_date":"Ritorno","search_xp_sb_manual_tooltip_year":"Anno del soggiorno","language_exception_bh_gwe_sr_privacy_private_apartment_8″:"{num} appartamenti privati","sxp_lp_sbox_num_adults":"{num_adults} adulti","recently_viewed_list_variableopt_2″:"Le strutture sono state salvate nella lista "{name_of_list}"","bh_gwe_sr_privacy_entire_studio":"{num} interi monolocali","msg_entry_cancelled_booking":"Non ci sono messaggi! Prenota il tuo prossimo viaggio e usa Booking Assistant per chiarire tutti i tuoi dubbi.","review_adj_average":"Nella media","acc_settings_section_2fa_enrollment_phone_number_field_placeholder":"Inserisci il tuo numero di telefono","language_exception_bh_sr_num_bed_type_without_bed_xl_double_11″:"{num} matrimoniali grandi","auth_next_step_error_wrong_phone":"Inserisci un numero di telefono valido","language_exception_lists_added_to_x_lists_1″:"Salvata in 1 lista","share_list_with_friend_1″:"Condividi con i tuoi amici","rates_rocket_hp_rooms_table_boost_message":"Paga di più e guadagna di più","iq_sbox_cars_month_of_arrival":"Mese di riconsegna","language_exception_sbox_num_adults_no_comma_1″:"1 adulto","acc_index_checkout_calendar_opened":"Hai aperto il calendario del check-out","checkout_form_select_bank_dropdown":"Seleziona la banca","language_exception_bh_sr_num_bed_type_without_bed_futon_11″:"{num} futon","loc_instalments_card_check":"The card you've selected doesn't allow instalments.","d_dmw_wl_num_properties_saved":"{num_properties_saved} strutture salvate","checkout_success_card_saved":"Carta salvata correttamente","wl_select_a_list":"Seleziona una lista","nights":"notti","language_exception_bh_bp_dates_num_weeks_8″:"Durata totale del soggiorno: {num_weeks} settimane","raf_friend_lightbox_step_3″:"Step 3″,"maps_google_distances_hours":"{num_hours} ore","language_exception_ss_sxp_index_sbox_calendar_num_night_stay_1″:"(soggiorno di {num_nights} notte)","bbg_account_activity_no_activity":"Non ci sono notifiche","auth_2fa_recovery_flow_confirm_phone_number_explanation":"Se non hai il cellulare a portata di mano, puoi completare la procedura di verifica confermando innanzitutto il numero di telefono associato all'account.","review_adj_exceptional":"Eccezionale","language_exception_d_dmw_wl_calendar_occupancy_children_1″:"{num_children} bambino","wl_lists_max_tooltip":"Hai raggiunto il numero massimo di liste","pdi_index_wpm_popup_checklist":"Criteri per ottenere il rimborso della differenza","cdm_hp_quick_share_save":"Salva","review_adj_very_poor":"Pessimo","msg_wlm_screen_start_button_fb":"Continua con Messenger","review_adj_average_passable":"Passabile","msg_cancelled_booking_label":"Cancellata","app_marketing_www_landing_anti_fraud_cta_error_generic":"Prova di nuovo.","bh_gwe_sr_privacy_private_room_one":"{num} camera privata","pb_google_place_meal_takeaway":"Ristorante takeaway","sxp_index_sbox_num_years_old":"{num_years} anni","pp_index_popup_bpg_how_to_2″:"Cerca nella conferma della prenotazione la scritta {start_format}"Hai trovato questo alloggio a un prezzo più basso da qualche altra parte?"{end_format}. La puoi trovare anche nella sezione {start_format}"Vedi tutte le prenotazioni"{end_format}.","checkout_form_less_options":"Meno opzioni","lists_room_type_lightbox_room":"Altre {number_of_rooms} tipologie","language_exception_beach_sr_header_see_beaches_8″:"Vedi tutte le spiagge","search_box_room_filter":"{num_rooms} camere","search_guest_type_children":"Bambini","paycom_billing_address_explanation":"Il tuo indirizzo di fatturazione è quello usato per la registrazione della tua carta.","review_adj_superb":"Eccellente","ios_ace_wishlist_unavailable_for_dates":"Non disponibile per le tue date sul nostro sito","beach_bs_quiz_cta_next_web":"Avanti","beach_sr_left_side_module_beach_properties":"Mostra le strutture più vicine","map_distance_from_property":"{distance_localised} dalla struttura","pb_google_place_liquor_store":"Negozio di alcolici","iq_sbox_flights_date_of_return":"Data di ritorno","beach_sr_left_side_module_header":"Trova la spiaggia perfetta","language_exception_bh_gwe_sr_card_entire_unit_holidayhome_8″:"{num} intere case vacanze","deals_countdown_singlesday19_days":"GIORNI","auth_2fa_recovery_flow_confirm_phone_number_input_label":"Inserisci il numero di telefono associato all'account:","bh_gwe_sr_privacy_private_studio_one":"{num} monolocale privato","welcome_to_your_lists_compare":"Confronta le strutture per scegliere il soggiorno perfetto!","lists_endorsement_perfect_stay_people_from":"{ufi_name} è consigliatissima dai viaggiatori {from_country_name} per: {interest_point}","iq_sbox_rentalcars_pick_up":"Ritiro","language_exception_deals_landing_blackfriday2021_customer_countdown_days_0″:"Terminano tra {num_days} giorni","raf_desktop_cannot_book_property":"Non puoi prenotare questa struttura usando il programma "Presentaci un amico". Cerca un'altra struttura.","iq_sbox_flights_to":"Per dove?","group_change":"Modifica","b_conf_number_of_rooms":"{numRooms} camere,","iq_sbox_flights_one_way":"Solo andata","a11y_aria_label_carousel_previous":"Precedente","beach_bs_quiz_when_question_sep_web":"Set","mlt_timeline_tooltip_top_reasons_to_visit_1″:"Un buon motivo per visitarla: {/endorsement/[reason_1]/name_lowercase}","language_exception_beach_sr_left_side_module_show_all_beaches_11″:"Mostra tutte le {num_beaches} spiagge","language_exception_d_dmw_wl_calendar_occupancy_adults_1″:"{num_adults} adulto","language_exception_bh_sr_num_bed_type_without_bed_double_bunk_8″:"{num} letti a castello matrimoniali","m_wl_saved_view":"Vedi","language_exception_deals_countdown_singlesday19_hours_11″:"ORE","raf_desktop_friend_landing_banner_minimum_spend":"*Spesa minima di {minimum_spend}","bh_gwe_sr_privacy_private_suite":"{num} suite private","language_exception_bh_gwe_sr_card_entire_unit_apartment_1″:"Intero appartamento","language_exception_m_sxp_calendar_date_select_num_nights_1″:"({num_nights} notte)","language_exception_bh_gwe_sr_privacy_shared_bathroom_room_8″:"{num} camere con bagni condivisi","ar_islamic_calendar_ramadan":"Ramadan","groups_sr_undefined_ages_msg":"L'età che abbiamo preimpostato per i bambini è 12 anni. Se inserisci l'età corretta potresti anche trovare prezzi migliori.","pdi_index_popup_wpm_bullet_2″:"L'altra offerta dev'essere per le stesse date di check-in e check-out.","raf_desktop_friend_modal_step_one_header":"Prenoti il tuo alloggio","gex_w_index_white_banner_cta2″:"Iscriviti","checkout_form_4_digit_cvc":"Inserisci il codice di sicurezza di 4 cifre che trovi sulla parte frontale della tua carta","language_exception_bh_gwe_sr_card_entire_unit_suite_1″:"Intera suite","bb_business_or_leasure_tooltip_lt":"Indica questa prenotazione come "Viaggio di piacere"","wl_new_list":"Nuova lista","language_exception_deals_countdown_singlesday19_minutes_1″:"MINUTO","language_exception_m_sxp_calendar_date_select_num_nights_8″:"({num_nights} notti)","checkout_form_card_number":"Numero della carta","www_surveygizmo_intro_yes":"Rispondi","bh_gwe_sr_privacy_entire_bungalow_one":"{num} intero bungalow","raf_friendlanding_index_lightbox_headline_percent_wallet":"Guadagna il {value_percent_friend}% come rimborso in credito Wallet","msg_cta_lets_get_started":"Iniziamo","my_list_date_button_v2″:"Applica date e vedi disponibilità","language_exception_m_sxp_calendar_date_select_num_nights_11″:"({num_nights} notti)","language_exception_sxp_index_sbox_horizontal_age_of_children_q_8″:"Quanti anni hanno i bambini con cui viaggi?","list_my_lists_onbaording_box_save_msg":"Salva le tue strutture preferite in una lista, per visualizzarle o prenotarle quando vuoi.","searchbox_error_msg_need_date":"Inserisci le date per verificare la disponibilità.","incentives_index_landing_error_link_used_subtext":"Per fortuna potrai trovare altre fantastiche offerte sul nostro sito","bh_sr_num_bed_type_without_bed_double_bunk":"{num} letti a castello matrimoniali","language_exception_d_dmw_wl_calendar_occupancy_rooms_1″:"{num_rooms} camera","language_exception_bh_gwe_sr_privacy_no_descriptor_bed_in_dorm_11″:"{num} letti in dormitorio","d_dmw_wl_calendar_occupancy_rooms":"{num_rooms} camere","loc_social_connect_facebook_sign_up":"Iscriviti con Facebook","pp_index_popup_bpg_how_to_3″:"Non hai ancora un account? Accedi con il numero di prenotazione e il codice PIN.","pb_google_place_restaurant":"Ristorante","beach_explore_panel_map_header":"Spiagge {in_city_name}","language_exception_bh_sr_num_bed_type_without_bed_futon_8″:"{num} futon","language_exception_bh_sr_num_bed_type_without_bed_xl_double_1″:"{num} matrimoniale grande","raf_friendlanding_index_lightbox_headline_fixed_wallet":"Guadagna {value_friend} di credito Wallet","search_box_no_children_filter_default":"0 bambini","list_my_lists_onbaording_box_sign_in":"Per salvare una lista o per consultare le tue liste su un dispositivo mobile o su un tablet, {start_link1}accedi{end_link1} o {start_link2}crea un account{end_link2}.","welcome_to_your_lists_all_devices":"Vuoi salvarle su tutti i tuoi dispositivi? Accedi!","language_exception_list_percent_off_value_1″:"-1%","iq_sbox_error_flights_from_to_same":"Gli aeroporti per i campi "Da dove?" e "Per dove?" non possono essere uguali.","beach_bs_quiz_when_question_nov_web":"Nov","wish_lists_be_almost_first":"Aggiungilo! Sei tra i primi a farlo","pb_google_place_cafe":"Caffetteria","language_exception_search_box_room_filter_1″:"{num_rooms} camera","bh_gwe_sr_privacy_shared_dorm_room_one":"{num} dormitorio condiviso","language_exception_bh_gwe_sr_privacy_entire_studio_8″:"{num} interi monolocali","geo_beach_swimming":"È permesso nuotare","language_exception_hotel_header_new_num_reviews_1″:"1 giudizio","auth_next_step_error_wrong_verification_code":"Inserisci un codice valido","wl_cta_button_table_reserve":"Prenota ora","checkout_form_booking_process_mm":"MM","rates_rocket_hp_tooltip":"Il nostro fornitore partner {rocket_brand_name} prevede offerte esclusive su alcuni alloggi.","settings_page_error_message":"Si è verificato un problema. Riprova più tardi.","language_exception_search_box_adults_filter_1″:"{num_adults} adulto","language_exception_bh_sr_num_bed_type_without_bed_large_8″:"{num} matrimoniali","beach_bs_quiz_when_question_mar_web":"Mar","language_exception_bh_sr_num_bed_type_without_bed_double_bunk_11″:"{num} letti a castello matrimoniali","language_exception_bh_gwe_sr_card_entire_unit_chalet_11″:"{num} interi chalet","bh_gwe_sr_privacy_shared_bathroom_room_one":"{num} camera con bagno condiviso","recently_viewed_list_back_to_other_list":"Torna a {list_name}","pb_google_place_amusement_park":"Parco divertimenti","pb_google_place_shopping_mall":"Centro commerciale","acc_settings_section_2fa_enrollment_success":"L'autenticazione a due fattori è stata attivata","language_exception_beach_sr_header_see_beaches_1″:"Vedi la spiaggia","beach_bs_quiz_when_results_cta_web":"Fatto","pdi_index_popup_wpm_bullet_bbasic":"Se la tua prenotazione o l'offerta che stai confrontando è contrassegnata dalla dicitura Offerta da Sito Partner (ovvero proviene da una società partner di Booking.com).","language_exception_deals_countdown_singlesday19_hours_1″:"ORA","lists_save_this_list_signin":"Vuoi salvare questa lista? Per farlo accedi al tuo account o creane uno.","bh_gwe_sr_privacy_no_descriptor_tent_one":"{num} tenda","language_exception_a11y_hp_bookmarks_button_saved_1″:"Questa struttura è salvata in {num_lists} delle tue liste","bh_gsb_search_box_checkout_age":"Età del bambino il giorno {date}","paycom_billing_address_city":"Città","a11y_gallery_image_screenreader_placeholder":"Galleria immagini di questa struttura","msg_web_entry_new_messages":"Nuovi messaggi","ar_islamic_calendar_two_months":"{first_hijri_month}/{second_hijri_month} {year}","bhwge_sr_bed_multi_unit_3_choice":"Scelta letti: {/bed_type/[type_1]/name_lowercase_nobed}, {/bed_type/[type_2]/name_lowercase_nobed} o {/bed_type/[type_3]/name_lowercase_nobed}","language_exception_lists_room_type_lightbox_hotel_1″:"1 room type available","language_exception_beach_side_header_closest_1″:"Spiaggia più vicina","paycom_validate_tpv_billing_address_country":"Inserisci un Paese o una regione validi","ar_islamic_calendar_rabiul_akhir":"Rabi'ul Akhir","minutes":"minuti","language_exception_sxp_index_sbox_num_years_old_1″:"{num_years} anno","bh_sr_num_bed_type_without_bed_sofa":"{num} divani letto","iq_sbox_flights_year_of_departure":"Anno di partenza","raf_friendlanding_index_lightbox_headline_percent_cc":"Guadagna il {value_percent_friend}% come rimborso in denaro","language_exception_bh_gwe_sr_privacy_no_descriptor_bed_in_dorm_8″:"{num} letti in dormitorio","ar_islamic_calendar_jumadal_ula":"Jumadal Ula","list_my_lists_onbaording_box_book_msg":"Prenota il soggiorno perfetto!","iq_sbox_rental_cars_pick_up_date":"Data di ritiro","df_sold_out_hotels_explain":"Abbiamo venduto l'ultima camera disponibile che avevamo in questa struttura nelle tue date","language_exception_d_dmw_wl_no_review_score_info_1″:"Per calcolare il punteggio è necessario almeno {min_num_reviews} giudizio. Puoi contribuire anche tu: prenota {property_name} e dopo il soggiorno lascia una recensione!","loc_m_social_connect_naver_sign_in":"Sign in with Naver","language_exception_bh_gwe_sr_privacy_no_descriptor_empty_spot_8″:"{num} piazzole","loc_social_connect_google_sign_in":"Accedi con Google","language_exception_bh_gwe_sr_card_entire_unit_bungalow_1″:"Intero bungalow","lists_room_type_lightbox_hotel":"{number_of_rooms} tipologie disponibili","sr_search_card_includes_taxes_charges":"Include tasse e costi","list_wishlist_send_to_friends":"Condividi la lista","bbt_notifications_new_join_configure":"{start_bold}{user_name}{end_bold} si è appena unito all'account aziendale. Se vuoi configurare i diritti di amministratori e travel organizer sull'account, vai alla pagina delle impostazioni.","language_exception_ng_map_price_for_x_nights_1″:"Prezzo per 1 notte","language_exception_bh_gwe_sr_privacy_shared_dorm_room_11″:"{num} dormitori condivisi","list_show_prices_of_all":"Vedi i prezzi per tutte le strutture","raf_flex_modal_optin_tickbox":"Voglio ricevere le notifiche sui premi","dsf_rename_list_dialogue":"Inserisci un nuovo nome per questa lista","check_availability":"Verifica disponibilità","sbox_index_gsb_child_age":"età il giorno del check-out","bh_m_sxp_calendar_date_select_num_weeks":"({num_weeks} settimane)","language_exception_beach_explore_panel_map_header_1″:"Spiaggia {in_city_name}","language_exception_d_dmw_wl_calendar_occupancy_rooms_8″:"{num_rooms} camere","m_sxp_calendar_date_select_choose_checkout":"Seleziona una data di check-out","beach_side_header_closest":"Spiagge più vicine","beach_explore_panel_ave_cost":"Costo medio per notte","search_top_50_badge":"Super gettonata","map_marker_current_property":"Struttura selezionata","d_dmw_wl_taxes_and_charges_may_vary":"tasse e costi possono variare","language_exception_bh_gwe_sr_privacy_no_descriptor_tent_1″:"Tenda","language_exception_sxp_index_sbox_horizontal_adults_1″:"{num_adults} adulto","hotel":"hotel","ar_islamic_calendar_rajab":"Rajab","lists_added_to_x_lists":"Salvata in {num_wishlists_16} liste","language_exception_bh_m_sxp_calendar_date_select_num_weeks_11″:"({num_weeks} settimane)","beach_review_adj_pleasant":"Spiaggia carina","language_exception_bh_gwe_sr_privacy_private_studio_8″:"{num} monolocali privati","geo_beach_lifeguard":"Bagnino sul posto","bh_sr_num_bed_type_without_bed_double":"{num} matrimoniali alla francese","language_exception_bh_gwe_sr_privacy_private_room_8″:"{num} camere private","language_exception_bh_sr_num_bed_type_without_bed_double_8″:"{num} matrimoniali","acc_cal_selected_you":"Hai selezionato","gsb_hp_book_now_cta_alt":"{num} unità per {group_recommendation_price}","filter_hide":"Nascondi","list_not_available":"Non disponibile in queste date:","auth_2fa_recovery_flow_code_sent_explanation":"Quando hai attivato l'autenticazione a due fattori per il tuo account, ti avevamo chiesto di fornirci un indirizzo e-mail di riserva da usare quando non avresti avuto a portata di mano il cellulare.","bh_gwe_sr_privacy_no_descriptor_empty_spot_one":"{num} piazzola","m_gex_google_popup_email":"Accedi per sbloccare sconti e offerte!","geo_beach_water_quality_excellent":"Eccellente qualità dell'acqua","language_exception_iq_sbox_accommodation_num_guests_1″:"{num_guests} ospite","language_exception_deals_countdown_singlesday19_days_1″:"GIORNO","pb_google_place_sightseeing":"Monumenti","raf_self_landing_alert_index_headline":"Hai cliccato sul tuo stesso link","wishlist_create_new":"Crea una lista","language_exception_bh_gwe_sr_card_entire_unit_holidayhome_1″:"Intera casa vacanze","language_exception_bh_gwe_sr_privacy_entire_holiday_home_8″:"{num} intere case vacanze","pb_google_place_bicycle_store":"Negozio di biciclette","d_dmw_wl_simple_steps_2″:"Quando ne trovi una che ti piace, tocca l'icona a forma di cuore","iq_sbox_cars_month_of_departure":"Mese di ritiro","language_exception_d_dmw_wl_calendar_occupancy_children_11″:"{num_children} bambini","sr_just_added_label":"Struttura appena aggiunta!","go_to_list":"Vai alla lista","language_exception_rates_rocket_sr_num_results_accom_partners_8″:"Stai visualizzando tutte le strutture, più altre {num} offerte esclusive messe a disposizione da {rocket_brand_name}","language_exception_bh_gwe_sr_privacy_shared_bathroom_room_11″:"{num} camere con bagni condivisi","bh_gwe_sr_privacy_private_suite_one":"{num} suite privata","paycom_billing_address":"Indirizzo di fatturazione","language_exception_bh_gwe_sr_card_entire_unit_bungalow_8″:"{num} interi bungalow","a11y_hp_bookmarks_button_saved":"Questa struttura è salvata in {num_lists} delle tue liste","language_exception_ss_sxp_index_sbox_calendar_num_night_stay_8″:"(soggiorno di {num_nights} notti)","real_login_signin":"Accedi","checkout_form_select_payment_method":"Seleziona un metodo di pagamento per continuare","language_exception_bh_gwe_sr_privacy_entire_holiday_home_11″:"{num} intere case vacanze","ppd_survey_oct18_price_clarity_cp_outro":"Grazie per il feedback!","bh_gwe_sr_privacy_entire_chalet_one":"{num} intero chalet","pb_google_place_florist":"Fioraio","language_exception_gsb_hp_book_now_cta_room_1″:"{num} camera per {group_recommendation_price}","raf_friend_lightbox_step_1_description":"Trova e prenota la struttura perfetta dove vuoi tu","review_adj_very_good":"Ottimo","beach_bs_quiz_when_question_jan_web":"Gen","pb_google_place_aquarium":"Acquario","language_exception_deals_countdown_singlesday19_seconds_1″:"SECONDO","list_dropdown_header":"Puoi salvare le strutture nelle liste","d_dmw_wl_select_dates_view_prices_cta":"Scegli le date per vedere i prezzi","d_dmw_wl_simple_steps_cta":"Inizia la ricerca","sxp_lp_sbox_num_children":"{num_children} bambini","raf_desktop_friend_modal_step_three_subhead_percent":"La struttura ci confermerà che hai soggiornato e ti sarà rimborsato il {value_percent_friend}%!","bh_sr_num_bed_type_without_bed_bunk":"{num} letti a castello","raf_friend_lightbox_step_3_description":"Richiedi il tuo rimborso.","language_exception_rates_rocket_sr_num_results_accom_partners_1″:"Stai visualizzando tutte le strutture, più {num} offerta esclusiva messa a disposizione da {rocket_brand_name}","language_exception_sxp_sbox_num_properties_left_of_cta_v2_1″:"{num_properties} struttura trovata per la tua ricerca","language_exception_bh_ss_sxp_index_sbox_calendar_num_week_stay_8″:"(soggiorno di {num_weeks} settimane)","geo_beach_water_quality_great":"Ottima qualità dell'acqua","bb_business_or_leasure_tooltip_bt":"Indica questa prenotazione come "Viaggio di lavoro"","list_dropdown_email_last_name":"Cognome","genius_icon_tooltip":"Su questo hotel hai il 10% di sconto perché sei un cliente Genius!","review_adj_above_average":"Sopra la media","recently_viewed_list_v3″:"Salva queste strutture in una lista","sr_ss_sbox_no_text_error":"Per iniziare la ricerca, scrivi cosa ti serve.","ext_modal_loading":"In caricamento…","bh_gwe_sr_privacy_no_descriptor_tent":"{num} tende","mlt_timeline_tooltip_top_reasons_to_visit_3″:"Buoni motivi per visitarla: {/endorsement/[reason_1]/name_lowercase}, {/endorsement/[reason_2]/name_lowercase} e {/endorsement/[reason_3]/name_lowercase}","checkout_form_payment_method":"Metodi di pagamento","a11y_index_autocomplete_suggested_destinations":"Puoi scegliere tra le mete suggerite elencate qui sotto","beach_sr_loading_sort_beach_distance_header":"Un attimo solo: stiamo aggiornando i risultati","a11y_hp_bookmarks_add_to":"Aggiungi la struttura alle tue liste","language_exception_bh_gwe_sr_privacy_private_suite_1″:"Suite privata","language_exception_bh_gwe_sr_privacy_entire_bungalow_8″:"{num} interi bungalow","language_exception_msg_lc_alt_messaging_platform_1″:"Hai {number} nuovo messaggio","d_dmw_wl_calendar_dates_apply_cta":"Applica","language_exception_ls_error_max_los_exceeded_p2_1″:"È possibile prenotare solo per un massimo di {max_num_nights} notte. Correggi le date e riprova.","loc_social_connect_facebook_sign_in":"Accedi con Facebook","msg_www_ask_a_question":"Booking Assistant","raf_friendlanding_index_lightbox_step3_description_wallet":"Ricevi il tuo premio direttamente nel tuo credito Wallet.","pb_google_place_library":"Biblioteca","sbox_num_adults_no_comma":"{num_adults} adulti","lists_email_invalid_email_error":"Ops! Questo indirizzo e-mail non è valido. Inseriscine un altro.","raf_instant_discount_flex_modal_step1″:"Accedi a {b_companyname} o crea un account","ar_islamic_calendar_hijri_off":"Hide Hijri","acc_cal_closed_closed":"Hai chiuso il widget del calendario","please_enter_your_check_in_date":"Inserisci la data di arrivo.","sbox_dates_num_nights_1″:"Soggiorno di {num_nights} notti","language_exception_b_conf_number_of_rooms_1″:"1 camera,","lists_map_see_more":"Leggi di più","pdi_index_popup_wpm_bullet_5″:"Se l'altra offerta fa parte di un programma fedeltà o di una raccolta punti.","m_sxp_calendar_date_select_num_nights":"({num_nights} notti)","pb_google_place_clothing_store":"Negozio di abbigliamento","lists_compare_got_it":"Grazie, ho capito!","sbox_error_checkout_after":"Seleziona una data di check-out successiva a quella di check-in","bh_gwe_sr_privacy_entire_apartment":"{num} interi appartamenti","beach_review_adj_exceptional":"Spiaggia eccezionale","ar_islamic_calendar_no_month_change":"{hijri_month} {year}","price_watch_sorry_1″:"Spiacenti, puoi osservare un massimo di {max_number_properties} prezzi.","incentives_index_landing_error_link_used_header":"Purtroppo questo link è già stato usato","lists_map_from":"A partire da {start_style}{localised_price}{end_style}","msg_entry_notification_unread_message":"You have unread messages","language_exception_bh_sr_num_bed_type_without_bed_sofa_1″:"{num} divano letto","language_exception_conf_email_num_nights_11″:"{num_nights} notti","deals_price_watch9″:"Cancella avviso","lists_lightbox_dates_reveal_price_error_message":"Nessuna camera disponibile. Prova con altre date.","deals_price_watch1″:"Avviso prezzi","iq_sbox_flights_year_of_return":"Anno di ritorno","iq_sbox_flights_from":"Da dove?","bh_gwe_sr_privacy_no_descriptor_mobile_home":"{num} case mobili","beach_review_adj_very_good":"Bellissima spiaggia","language_exception_deals_countdown_singlesday19_hours_8″:"ORE","sxp_sbox_num_properties_on_cta_v1″:"{num_properties} strutture","pb_google_place_electronics_store":"Negozio di elettronica","a11y_aria_label_carousel_next_previous":"Successivo","recently_viewed_list_name_dropdown_explanation_box_header":"Così non ti perdi più niente!","pb_google_place_park":"Parco","raf_friendlanding_index_lightbox_headline_fixed_cc":"Guadagna {value_friend} come rimborso in denaro","pex_flights_search_traveller_children_age":"Dai 2 agli 11 anni","pdi_index_popup_wpm_contact":"Ricorda soltanto di contattarci dopo aver prenotato con noi, e almeno 24 ore prima della data del check-in.","language_exception_fame_search_age_explain_1″:"Per trovare un alloggio con spazio per tutti e mostrarti i prezzi esatti, dobbiamo conoscere l'età del bambino al momento del check-out.","lists_cta_button_v2″:"Scopri di più","bh_gwe_sr_card_entire_unit_bungalow":"{num} interi bungalow","d_dmw_wl_simple_steps_head":"Ecco 3 semplici passi per iniziare:","raf_flex_post_signin_modal_subtext_fixed_wallet":"Scegli dove soggiornare e ricevi un rimborso di {value_friend} in credito di viaggio.","paycom_billing_address_country":"Paese o regione","checkout_form_cvc_code_title":"Codice di sicurezza","deals_price_watch6″:"Osserva","language_exception_beach_sr_left_side_module_show_all_beaches_1″:"Mostra la spiaggia","checkout_form_no_name_entered":"Inserisci il nome del titolare della carta","language_exception_conf_email_num_nights_1″:"{num_nights} notte","d_dmw_wl_just_added_label":"Struttura appena aggiunta!","recently_viewed_list_name_header_cta":"Mostra le strutture viste di recente","language_exception_sxp_index_sbox_horizontal_age_of_children_q_1″:"Quanti anni ha il bambino con cui viaggi?","d_dmw_wl_calendar_occupancy_children":"{num_children} bambini","beach_review_adj_superb":"Spiaggia eccellente","sbox_age_of_child_popup_best_price":"Per vedere i prezzi più convenienti per il tuo gruppo, non dimenticare questo passaggio!","language_exception_price_watch_sorry_1_1″:"Spiacenti, puoi osservare un massimo di 1 prezzo.","acc_index_choose_checkin_date_arrowkeys":"Scegli la data di check-in usando le frecce sulla tastiera","sbox_age_of_child_popup_header":"Trova le migliori offerte","ss_search_box_search_property_type":"{property_type} ({destination})","pex_flights_search_traveller_babies_age":"Da 0 a 2 anni","beach_hp_sidecard_more_nearby_button":"Altre info sulla zona","language_exception_deals_landing_blackfriday2021_customer_countdown_days_11″:"Terminano tra {num_days} giorni","language_exception_bh_gwe_sr_privacy_private_apartment_1″:"Appartamento privato","bh_bp_dates_num_weeks":"Durata totale del soggiorno: {num_weeks} settimane","ss_sxp_index_sbox_calendar_num_night_stay":"(soggiorno di {num_nights} notti)","language_exception_bh_gwe_sr_card_entire_unit_apartment_11″:"{num} interi appartamenti","language_exception_pex_flights_sb_num_travellers_8″:"{num_travel} viaggiatori","sbox_error_45_night_res":"Ci dispiace, ma non è possibile prenotare per più di 45 notti.","beach_review_adj_poor":"Spiaggia scarsa","hp_saved_to_num_lists":"Salvata in {num_wishlists_16} liste","language_exception_generalised_num_properties_1″:"1 struttura","a11y_travheader_view_notifications_count":"Hai {num_notifications} notifiche da leggere","ar_islamic_calendar_rabiul_awwal":"Rabi'ul Awwal","language_exception_beach_explore_panel_map_header_11″:"Spiagge {in_city_name}","beach_review_adj_disappointing":"Spiaggia deludente","msg_lc_notification_name":"{agentname} dell'Assistenza Clienti","language_exception_conf_email_num_nights_8″:"{num_nights} notti","language_exception_sbox_calendar_num_nights_2_1″:"da {start_bold}{checkin_date}{end_bold} a {start_bold}{checkout_date}{end_bold} (soggiorno di {num_nights} notte)","language_exception_d_dmw_wl_calendar_occupancy_rooms_11″:"{num_rooms} camere","sbox_adults":"Adulti","language_exception_beach_sr_left_side_module_show_all_beaches_8″:"Mostra tutte le {num_beaches} spiagge","sr_last_room_reserved":"Abbiamo venduto l'ultima camera disponibile che avevamo in questa struttura","language_exception_gsb_hp_book_now_cta_villa_1″:"{num} villa per {group_recommendation_price}","language_exception_bh_sr_num_bed_type_without_bed_single_1″:"{num} singolo","results":"Risultati","beach_bs_quiz_when_question_june_web":"Giu","language_exception_bh_gwe_sr_privacy_no_descriptor_bed_in_dorm_1″:"Letto in dormitorio","iq_sbox_flights_depart_date":"Partenza","incentives_index_landing_error_link_expired_subtext":"Per fortuna potrai trovare altre fantastiche offerte sul nostro sito","language_exception_bh_gwe_sr_card_entire_unit_studio_11″:"{num} interi monolocali","raf_flex_modal_button_signin_register":"Accedi o registrati","d_dmw_wl_distance_from_centre":"a {distanceInKm} dal centro","bh_gsb_search_box_checkout_age_plural":"Età dei bambini il giorno {date}","iq_sbox_flights_travellers":"{num_travellers} viaggiatori","geo_beach_waves_calm":"Mare calmo","lists_email_invalid_first_name_error":"Inserisci un nome","language_exception_maps_google_distances_minutes_1″:"{num_minutes} minuto","beach_explore_beach_panel_overview_header":"Info su: {beach_name}","msg_lc_toast_open":"Apri","beach_review_adj_good":"Bella spiaggia","raf_desktop_friend_modal_subhead_percent_no_name":"Grazie all'amico che ti ha inviato il link riceverai un rimborso del {value_percent_friend}% se prenoti con noi e soggiorni. Provare per credere!","lists_wishlist_add_note":"Prendi appunti","tdot_sr_from_centre_location":"{total_distance_from_property} dal centro","language_exception_bh_gwe_sr_privacy_hotel_room_1″:"Camera di hotel","language_exception_sxp_sbox_num_properties_on_cta_v1_1″:"{num_properties} struttura","language_exception_deals_countdown_singlesday19_minutes_8″:"MINUTI","language_exception_gsb_hp_book_now_cta_alt_1″:"{num} unità per {group_recommendation_price}","raf_instant_discount_flex_modal_step2″:"Trova il tuo alloggio ideale","lists_wishlist_save_note":"Salva","checkout_pay_fe_bp_hybrid_payment_step_1″:"Verrai reindirizzato a {pay_method}","pex_flights_search_traveller_infants":"Neonati","recently_viewed_list_variableopt_1″:"La struttura è stata salvata nella lista "{name_of_list}"","language_exception_bh_gwe_sr_privacy_entire_apartment_8″:"{num} interi appartamenti","a11y_sr_close_calendar_icon":"Chiudi calendario","review_adj_poor":"Scarso","iq_sbox_accommodation_holiday_rental":"Case per vacanze","bh_gwe_sr_privacy_entire_bungalow":"{num} interi bungalow","language_exception_pex_flights_sb_num_travellers_11″:"{num_travel} viaggiatori","raf_flex_post_signin_modal_subtext_percent_cc":"Scegli dove soggiornare e ricevi il {value_percent_friend}% di rimborso sulla prenotazione.","share_list_with_friend_3″:"Copia questo link per condividere la lista:","language_exception_iq_sbox_flights_travellers_1″:"{num_travellers} viaggiatore","pex_flights_search_traveller_adult_age":"Dai 12 anni","language_exception_bh_gwe_sr_card_entire_unit_villa_11″:"{num} intere ville","checkout_pay_bs3_error_no_reason":"Siamo spiacenti, ma non siamo riusciti a prelevare il pagamento.","bh_sr_num_bed_type_without_bed_xl_double":"{num} matrimoniali grandi","review_adj_good":"Buono","traveller_header_tip_sign_in":"Accedi per risparmiare fino al 50% con le offerte riservate agli iscritti","search_box_cal_checkin_date":"Data del check-in","pb_google_place_spa":"Spa","language_exception_ls_error_max_los_exceeded_p1_1″:"Tra la data di check-in e quella di check-out c'è più di {max_num_nights} notte.","d_dmw_wl_view_property":"Vedi struttura","bh_gwe_sr_privacy_entire_studio_one":"{num} intero monolocale","generalised_num_properties":"{num_hotels} strutture","language_exception_maps_google_distances_hours_1″:"{num_hours} ora","raf_desktop_friend_modal_step_three":"Ricevi un rimborso!","checkout_form_expiry_date":"Scadenza","maps_google_distances_minutes":"{num_minutes} minuti","beach_bs_quiz_when_question_october_web":"Ott","beach_bs_quiz_when_question_aug_web":"Ago","bh_gwe_sr_privacy_entire_holiday_home_one":"{num} intera casa vacanze","checkout_form_invalid_cc":"Numero della carta non valido","iq_sbox_cars_year_of_arrival":"Anno di riconsegna","lists_email_invalid_last_name_error":"Inserisci un cognome","checkout_form_postal_code":"CAP","paycom_billing_address_house_number_or_name":"Numero civico o nome della casa","paycom_billing_address_edit":"Modifica","pb_google_place_car_rental":"Noleggio auto","language_exception_bh_sr_num_bed_type_without_bed_single_8″:"{num} singoli","language_exception_sxp_lp_sbox_num_children_8″:"{num_children} bambini","iq_sbox_accomm_check_in":"Check-in","raf_deals_easter19_subheader_cc":"Hai anche uno sconto extra di almeno il 20%, se prenoti un'Offerta di Pasqua","convert_incentives_landing_modal_cta":"Prenota e ricevi il rimborso","sr_hp_taxes_and_charges_exception":"Potrebbero esserci costi aggiuntivi","language_exception_bh_gwe_sr_card_entire_unit_villa_1″:"Intera villa","lists_undo_option_basic":"Annulla","sr_calendar_checkout_only_tooltip_info":"Solo check-out","checkout_form_cvc_tooltip_3_digit":"Il tuo codice di sicurezza di 3 cifre è stampato sulla striscia riservata alla firma","lists_map_empty":"Questa lista è vuota","ng_map_price_for_x_nights":"Prezzo per {num_nights} notti","language_exception_ls_error_max_los_exceeded_p2_8″:"È possibile prenotare solo per un massimo di {max_num_nights} notti. Correggi le date e riprova.","deals_price_watch5″:"Vedi l'esempio","language_exception_bh_gwe_sr_card_entire_unit_apartment_8″:"{num} interi appartamenti","language_exception_msg_lc_alt_messaging_platform_11″:"Hai {number} nuovi messaggi","lists_sign_in_to_see_2″:"Accedi per conservare queste strutture tra i preferiti, su tutti i tuoi dispositivi.","cdm_web_sr_compare_checkbox_saved":"Salvata in:","geo_hp_nearby_beaches_popular_header":"Spiagge popolari nei dintorni","wish_lists_be_first":"Aggiungilo tu per primo","sr_search_card_plus_taxes_and_charges_amount_v2″:"+ {sum_taxes_charges} di tasse e costi","iq_sbox_rental_cars_drop_off_date":"Data di riconsegna","raf_flex_shutdown_influencers":"Questa campagna premi è chiusa. Puoi andare avanti e fare una prenotazione, ma non riceverai un premio.","language_exception_gsb_hp_book_now_cta_alt_11″:"{num} unità per {group_recommendation_price}","pb_google_place_zoo":"Zoo","bh_gwe_sr_card_entire_unit_holidayhome":"{num} intere case vacanze","raf_desktop_friend_modal_step_two_header":"Ti godi il soggiorno","language_exception_a11y_gallery_image_screenreader_total_in_gallery_1″:"{number} immagine in questa galleria","search_box_children_filter":"{num_kids} bambini","beach_sr_left_side_module_show_all_beaches":"Mostra tutte le {num_beaches} spiagge","language_exception_bh_gwe_sr_privacy_entire_bungalow_11″:"{num} interi bungalow","ppd_survey_oct18_price_clarity_num_of_total":"{num} di {total_num}","deals_page_outstanding":"Sconti super convenienti per queste date","raf_instant_discount_flex_modal_step3_paynow_fixed":"Paga subito e ottieni uno sconto di {value_friend}.","d_dmw_wl_calendar_occupancy_apply_cta":"Applica","bh_gwe_sr_bed_choice_single_double_colon_hardcode":"Letti: 1 matrimoniale o 2 singoli","language_exception_iq_sbox_accommodation_num_rooms_1″:"{num_rooms} camera","raf_desktop_friend_modal_header":"Ciao! Ti diamo il benvenuto su {b_companyname}","raf_instant_discount_flex_modal_step3_paynow_percent":"Paga subito e ottieni uno sconto del {value_percent_friend}%.","gs_index_model_header_family":"Viaggi con bambini?","language_exception_bh_gwe_sr_privacy_entire_villa_11″:"{num} intere ville","pb_google_place_museum":"Museo","pod_sr_split_free_cancellation":"Cancellazione GRATUITA","paycom_validate_tpv_billing_address_house_number_or_name":"Inserisci un numero civico o un nome della casa validi","auth_next_step_sms_enter_code_cta":"Inserisci il tuo codice di verifica:","checkout_storing_credit_card_details_11″:"Aggiungi questa carta al tuo account per prenotare più velocemente","deals_landing_blackfriday2021_customer_countdown_days":"Terminano tra {num_days} giorni","language_exception_sxp_lp_sbox_num_children_0″:"{num_children} bambini","message":"Messaggio","a11y_cta_close_banner_new":"Chiudi il banner","language_exception_bh_gwe_sr_privacy_no_descriptor_mobile_home_8″:"{num} case mobili","raf_desktop_friend_modal_step_three_subhead":"La struttura ci confermerà che hai soggiornato e tu riceverai {value_friend}!","ge_expand_hp_trial_sidebar_cta":"Prova subito Genius","search_box_cal_checout_date":"Data del check-out","raf_unfification_header_refer_friends_earn":"Presentaci i tuoi amici e guadagna","name":"Nome","lists_lightbox_dates_reveal_price_cta":"Seleziona date","paycom_billing_address_needed_modal_body_web":"Per usare questa carta è necessario un indirizzo di fatturazione. Aggiungilo o seleziona un altro metodo di pagamento.n","pb_google_place_convenience_store":"Minimarket","pdi_index_popup_wpm_checklist_contact_2″:"Dovrai fornirci il link dell'altra offerta, che dovrà essere ancora disponibile online al momento della nostra verifica.","language_exception_bh_sr_num_bed_type_without_bed_double_1″:"{num} matrimoniale alla francese","pod_sr_split_no_prepayment_needed":"Senza pagamento anticipato","bh_gwe_sr_privacy_no_descriptor_bed_in_dorm_one":"{num} letto in dormitorio","gsb_hp_book_now_cta_apartments":"{num} appartamenti per {group_recommendation_price}","language_exception_msg_lc_alt_messaging_platform_0″:"Vai ai messaggi","auth_next_step_error_empty_verification_code":"Inserisci il codice di verifica","lp_percent_reserved_2a":"prenotate","deals_landing_blackfriday2021_customer_countdown_time":"Le offerte terminano tra {countdown}","list_dropdown_why":"Quando vedi un posto che ti piace, salvalo in una lista per trovarlo facilmente in seguito.","checkout_pay_fe_bp_hybrid_payment_step_2″:"Completa tutti i passaggi con {pay_method} per confermare la prenotazione","iq_sbox_accommodation_where":"Dove vuoi andare?","language_exception_bh_gwe_sr_privacy_private_room_1″:"Camera privata","auth_next_step_error_wrong_email":"Inserisci un indirizzo e-mail valido","raf_instant_discount_flex_modal_headline_fixed":"Risparmia {value_friend} sulla tua prenotazione","do_you_want_to_save":"Vuoi salvare questa struttura per consultarla dopo?","raf_friend_landing_save_for_later_cta":"Salva per dopo","language_exception_bh_gwe_sr_privacy_entire_studio_11″:"{num} interi monolocali","bhwge_sr_num_bed_choice":"Vari tipi di letto","language_exception_beach_explore_panel_map_header_8″:"Spiagge {in_city_name}","language_exception_bh_gwe_sr_privacy_entire_villa_8″:"{num} intere ville","language_exception_sbox_num_children_1″:"1 bambino","language_exception_bh_gwe_sr_privacy_no_descriptor_mobile_home_11″:"{num} case mobili","m_wl_saved_to":"Salvata in: {list_name}","maps_sorter_our_top_picks":"Le nostre scelte top","bh_gwe_sr_privacy_no_descriptor_bed_in_dorm":"{num} letti in dormitorio","deals_countdown_singlesday19_hours":"ORE","iq_sbox_cars_date_of_departure":"Data di ritiro","language_exception_ls_error_max_los_exceeded_p2_11″:"È possibile prenotare solo per un massimo di {max_num_nights} notti. Correggi le date e riprova.","share_list_with_friend_3_zhtw":"Copy this link and send it to your friends so they can see my list","language_exception_msg_lc_tab_new_11″:"{number} nuovi messaggi nella chat – Booking.com","checkout_form_booking_process_yy":"AA","geo_beach_accessibility":"Accessibile","deals_flexi_calendar_error":"Si è verificato un problema. Ricarica la pagina o riprova più tardi.","language_exception_bh_gwe_sr_privacy_shared_dorm_room_8″:"{num} dormitori condivisi","raf_desktop_friend_modal_subhead_percent":"Grazie a {user_first_name} riceverai un rimborso del {value_percent_friend}% se prenoti con noi e soggiorni. Provare per credere!","language_exception_bh_m_sxp_calendar_date_select_num_weeks_1″:"({num_weeks} settimana)","a11y_index_autocomplete_suggested_destinations_list":"Lista delle mete suggerite","msg_multithread_messages_header":"Messaggi","language_exception_msg_lc_tab_new_8″:"{number} nuovi messaggi nella chat – Booking.com","list_my_lists_onbaording_box_save":"Salva","ppd_survey_oct18_price_clarity_complete_cta":"Finisci il sondaggio","app_marketing_www_landing_anti_fraud_voice_ac1″:"Tocca e tieni premuto per inviare il link al tuo telefono.","language_exception_bh_gwe_sr_privacy_entire_villa_1″:"Intera villa","bh_gwe_sr_privacy_entire_holiday_home":"{num} intere case vacanze","list_dropdown_email_add_message_example":"Ciao! Ho appena creato una lista di strutture su {b_companyname} che penso potrebbero piacerti.","pb_google_place_bar":"Bar","language_exception_bh_m_sxp_calendar_date_select_num_weeks_8″:"({num_weeks} settimane)","language_exception_bh_gwe_sr_privacy_entire_chalet_11″:"{num} interi chalet","raf_validation_error_modal_employee_button":"Ok, ho capito","do_you_want_to_save_cta":"Salva questa struttura in questa lista","checkout_form_cardholder_name":"Titolare della carta","wl_lists_funnel_edit":"Cambia","loc_counter_word_child_age_cjk":"years old","language_exception_bh_gwe_sr_privacy_private_suite_8″:"{num} suite private","mlt_timeline_tooltip_top_reasons_to_visit_2″:"Buoni motivi per visitarla: {/endorsement/[reason_1]/name_lowercase} e {/endorsement/[reason_2]/name_lowercase}","raf_desktop_friend_modal_step_one_subhead":"Da appartamenti accoglienti a ville eleganti e hotel di lusso, troverai la soluzione che fa per te in ogni parte del mondo","geo_beach_water_quality_good":"Buona qualità dell'acqua","fame_search_age_needed":"Età (obbligatoria)","checkout_form_incorrect_name_type":"Inserisci il tuo nome così come appare sulla carta.","app_marketing_www_landing_anti_fraud_voice_ac2″:"Il controllo di sicurezza è stato completato. Puoi togliere il dito e aspettare.","language_exception_ls_error_max_los_exceeded_p1_11″:"Tra la data di check-in e quella di check-out ci sono più di {max_num_nights} notti.","wl_lists_create_failed":"Non è possibile creare una nuova lista. Riprova.","auth_2fa_recovery_flow_code_sent_header":"Codice di verifica inviato","raf_self_landing_alert_index_subtext_1″:"Ricorda che non puoi ottenere premi prenotando con il tuo stesso link di presentazione.","msg_wlm_page_privacy_policy_agree":"Usando Booking Assistant accetti l'{start_link}Informativa sulla Privacy di Booking.com{end_link}","no":"no","beach_review_adj_fabulous":"Spiaggia favolosa","search_sbox_abandoned_search_open_tab_message":"Ops, qualcosa è andato storto! Aggiorneremo questa pagina per risolvere il problema e farti andare avanti.","wl_new_list_hint":"Nome della nuova lista","language_exception_bh_bp_dates_num_weeks_1″:"Durata totale del soggiorno: {num_weeks} settimana","fame_search_occupancy_active_price":"Inserisci l'età esatta di ogni bambino per vedere le strutture, i letti e i prezzi che si adattano meglio alla tua famiglia.","d_dmw_wl_sign_in_save_properties_multi_device_subhead":"{start_link_1}Accedi{end_link_1} o {start_link_2}iscriviti{end_link_2} per sincronizzare le strutture che hai salvato sui dispositivi che preferisci","bh_gwe_sr_card_entire_unit_chalet":"{num} interi chalet","list_percent_off_value":"-{percent_off_value}%","ar_islamic_calendar_dhul_qaadah":"Dhul Qa'adah","msg_lc_tab_new":"(1) Nuovo messaggio nella chat – Booking.com","yes":"sì","bh_gwe_sr_privacy_entire_chalet":"{num} interi chalet","lists_unit_distance_metric":"{distance} km dal centro di {ufi}","wl_view_list":"Vedi lista","list_dropdown_email_add_message":"Aggiungi un messaggio","share_tooltip":"Condividi","fame_search_age_explain":"Per trovare un alloggio con spazio per tutti e mostrarti i prezzi esatti, dobbiamo conoscere l'età dei bambini al momento del check-out.","sbox_error_enter_dest":"Inserisci una destinazione per iniziare la ricerca","bh_gwe_sr_privacy_private_studio":"{num} monolocali privati","paycom_validate_tpv_billing_address_postal_code":"Inserisci un CAP valido","language_exception_search_box_children_filter_1″:"{num_kids} bambino","pm_generic_error_msg":"Sembra che qualcosa sia andato storto. Aggiorna la pagina e prova di nuovo.","list_dropdown_send_button":"Invia","sr_dates_cta_choose_room":"Scegli la tua camera","pb_google_place_movie_theater":"Cinema","checkout_form_new_card":"Usa un'altra carta","loc_sbox_children_age_plural":"Età dei bambini il giorno del check-out","geo_beach_food_and_drink":"Cibo e bevande sul posto","language_exception_bh_gwe_sr_privacy_entire_studio_1″:"Intero monolocale","fame_search_occupancy_active_no_price":"Inserisci l'età esatta di ogni bambino per vedere le strutture e i letti che si adattano meglio alla tua famiglia.","language_exception_bh_gwe_sr_privacy_private_studio_11″:"{num} monolocali privati","account_sign_in_one_tap_verifying_header":"Verifica in corso…","seconds":"secondi","lists_map_list_name":"Nome della lista","raf_friend_landing_shut_down_modal_body":"Il nostro programma "Presentaci un amico" non è più attivo. Puoi continuare ed effettuare una prenotazione, ma non riceverai alcun premio.","list_check_availability_of_all":"Controlla la disponibilità per tutte le strutture","ppd_survey_oct18_price_clarity_hp_outro":"Grazie!","dda_reset_password_cancel_button":"Annulla","incentives_index_landing_error_link_used_cta":"Ok","last_chance":"Ultima occasione!","welcome_to_your_lists_save_them":"Salva le tue strutture preferite su questo computer.","notifications_percent_reserved_cta":"Continua la ricerca","search_box_adults_filter":"{num_adults} adulti","language_exception_bh_gwe_sr_privacy_no_descriptor_tent_8″:"{num} tende","iq_sbox_accommodation_num_guests":"{num_guests} ospiti","iq_sbox_flights_month_of_departure":"Mese di partenza","rates_rocket_sr_num_results_accom_partners_tooltip":"Abbiamo evidenziato le strutture del nostro fornitore partner {rocket_brand_name}, che prevedono offerte esclusive su alcuni alloggi.","acc_cal_week_number":"Settimana {week_number}","d_dmw_wl_sign_in_save_properties_multi_device_head":"Vedi le strutture che hai salvato, dove e quando vuoi","language_exception_bh_gwe_sr_card_entire_unit_chalet_8″:"{num} interi chalet","lists_save_this_list_no":"No, grazie","language_exception_bdot_x_rooms_left_urgency_1″:"Solo {num_left} rimanente sul nostro sito!","iq_sbox_rentalcars_drop_off":"Consegna","www_surveygizmo_intro_no":"Non ora","language_exception_deals_landing_blackfriday2021_customer_countdown_days_8″:"Terminano tra {num_days} giorni","paycom_form_cardholder_name":"Titolare della carta","language_exception_bh_gwe_sr_card_entire_unit_bungalow_11″:"{num} interi bungalow","language_exception_bh_sr_num_bed_type_without_bed_double_bunk_1″:"{num} letto a castello matrimoniale","bhwge_sr_bed_multi_unit_2_choice":"Scelta letti: {/bed_type/[type_1]/name_lowercase_nobed} o {/bed_type/[type_2]/name_lowercase_nobed}","iq_sbox_error_cars_departure_date_too_far_future":"La data di ritiro è troppo avanti nel tempo. Ti preghiamo di riprovare.","a11y_gallery_image_screenreader_total_in_gallery":"{number} immagini in questa galleria","language_exception_bh_gwe_sr_privacy_private_studio_1″:"Monolocale privato","www_msg_welcome_value_prop":"Ti serve il parcheggio, il check-out tardivo o altro? Il nostro assistente virtuale ti aiuterà.","language_exception_sxp_lp_sbox_num_children_11″:"{num_children} bambini","raf_flex_post_signin_modal_headline_name":"Stai prenotando con il premio passaparola di {advocate_name}","book_from_list_select_dates":"Seleziona le date del tuo soggiorno","list_dropdown_email_first_name_example":"Mario","list_icon_tooltip_map_view":"Vedi mappa","language_exception_bh_sr_num_bed_type_without_bed_large_1″:"{num} matrimoniale","no_review_score_tab_header":"Ancora nessun punteggio…","paycom_billing_address_street":"Via/piazza","language_exception_bh_gwe_sr_card_entire_unit_suite_8″:"{num} intere suite","language_exception_beach_side_header_closest_11″:"Spiagge più vicine","hours":"ore","language_exception_d_dmw_wl_calendar_occupancy_children_8″:"{num_children} bambini","iq_sbox_error_flights_departure_date_invalid":"La tua data di partenza non è valida.","lists_lightbox_dates_reveal_price":"Seleziona le date per vedere prezzi e disponibilità.","ar_islamic_calendar_muharram":"Muharram","index_sbox_rooms_aria":"Numero di camere","beach_sr_loading_sort_beach_distance_subhead":"Vedrai prima le strutture più vicine alla spiaggia","bh_gwe_sr_card_entire_unit_suite":"{num} intere suite","beach_review_adj_very_poor":"Spiaggia pessima","bhpse_key_collect_error_refresh_page":"Sembra che qualcosa non abbia funzionato. {link_start}Aggiorna la pagina e prova di nuovo{link_end}.","language_exception_bh_gwe_sr_card_entire_unit_chalet_1″:"Intero chalet","months":"mesi","language_exception_bh_gwe_sr_privacy_hotel_room_8″:"{num} camere di hotel","current_location":"posizione attuale","book_button_now":"Prenota ora","m_wl_removed_from":"Rimossa da: {list_name}","pb_google_place_art_gallery":"Galleria d'arte","raf_friend_lightbox_step_2_description":"Goditi il soggiorno!","lms_srp_percentage":"Sconti extra last minute inclusi, fino al {num_saving}%!","language_exception_clear_urgency_only_x_rooms_left_1″:"Solo {amountRooms} camera rimasta sul nostro sito!","pb_google_place_bus_station":"Stazione degli autobus","bb_business_or_leasure_success_notification":"I dettagli del tuo viaggio sono stati salvati con successo","language_exception_bh_gwe_sr_privacy_no_descriptor_empty_spot_11″:"{num} piazzole","beach_sr_recovery_banner_header":"Sole, mare, sabbia e tanto altro… scopri la meta perfetta per una vacanza in spiaggia.","bh_sr_num_bed_type_without_bed_large":"{num} matrimoniali","pdi_index_popup_wpm_bullet_6″:"Se l'altra offerta costituisce una promozione speciale.","m_loc_sr_hc_travel_time_minutes":"{num_minutes} min","iq_sbox_error_cars_1_hour_future":"Il tuo orario di ritiro deve essere tra almeno 1 ora.","gsb_hp_book_now_cta_villa":"{num} ville per {group_recommendation_price}","raf_friend_lightbox_title":"Guadagna {value} come rimborso","latest_booking_elapsedtime_ago":"Ultima prenotazione: {elapsedTime} fa","pb_google_place_airport":"Aeroporto","lists_sign_in_to_see_click_here":"Accedi","search_sbox_abandoned_search_open_tab_message_refresh_cta":"Aggiorna ora","deals_countdown_singlesday19_seconds":"SECONDI","language_exception_bh_gwe_sr_privacy_private_room_11″:"{num} camere private","top_3_reasons_to_visit":"Da visitare soprattutto per: {theme_01}, {theme_02} e {theme_03}","raf_instant_discount_flex_modal_subtext_noname":"(e ricordati di ringraziare il tuo amico!)","search":"Cerca","pb_google_place_stadium":"Stadio","bh_sr_num_bed_type_without_bed_futon":"{num} futon","language_exception_bh_gwe_sr_card_entire_unit_suite_11″:"{num} intere suite","sxp_index_sbox_horizontal_adults":"{num_adults} adulti","beach_bs_quiz_when_question_apr_web":"Apr","language_exception_bh_sr_num_bed_type_without_bed_bunk_1″:"{num} letto a castello","raf_self_landing_alert_index_button_refer":"Scopri di più sul nostro programma di referral","raf_desktop_friend_modal_subhead":"Grazie a {user_first_name} riceverai {value_friend} se prenoti con noi e soggiorni. Provare per credere!","list_dropdown_email_example":"nome1@esempio.com; nome2@esempio.com","language_exception_bh_sr_num_bed_type_without_bed_single_11″:"{num} singoli","language_exception_destination_finder_num_endorsements_1″:"1 raccomandazione","a11y_hp_bookmarks_added":"Struttura aggiunta alla lista {list_name}","lists_save_this_list":"Vuoi salvare questa lista?","sr_lists_saved_notification":"Salvata!","language_exception_acc_index_child_age_screenread_1″:"Età bambino {child_number}","auth_2fa_recovery_flow_confirm_phone_number_header":"Conferma numero di telefono","a11y_sb_increase_button_aria":"Aumenta il numero di {stepper_title}","language_exception_bh_sr_num_bed_type_without_bed_double_11″:"{num} matrimoniali","language_exception_bh_sr_num_bed_type_without_bed_sofa_11″:"{num} divani letto","raf_instant_discount_flex_modal_subtext_name":"(e ricordati di ringraziare {advocate_name}!)","ar_islamic_calendar_jumadal_ukhra":"Jumadal Ukhra","pdi_index_wpm_popup_cant_claim":"In quali casi non è possibile chiedere il rimborso?","language_exception_deals_landing_blackfriday2021_customer_countdown_days_1″:"Terminano tra {num_days} giorno","bh_gwe_sr_card_entire_unit_villa":"{num} intere ville","checkout_form_no_postal_code":"Inserisci il CAP","sxp_index_sbox_age_at_checkout":"Età il giorno del check-out","language_exception_bh_bp_dates_num_weeks_11″:"Durata totale del soggiorno: {num_weeks} settimane","language_exception_gsb_hp_book_now_cta_chalet_1″:"{num} chalet per {group_recommendation_price}"},"rocketmiles_components":{"language_exception_cobrand_default_1_badge_discount":{"badge_discount":"Risparmia l'{reward_amount}%"},"language_exception_cobrand_default_11_badge_miles":{"badge_miles":"Guadagna {reward_amount} miglia"},"language_exception_cobrand_default_11_badge_discount":{"badge_discount":"Risparmia l'{reward_amount}%"},"cobrand_default":{"badge_discount_special_offer":"Offerta Speciale","badge_cashback":"Avrai indietro {reward_amount}","badge_discount":"Risparmia il {reward_amount}%","header_sr":"{num} strutture con {start_bold}Offerte Speciali{end_bold}","header_rt":"Offerte Speciali di {start_bold}{fe_program_name}{end_bold}","badge_miles":"Guadagna {reward_amount} miglia","header_tooltip_badge":"Hai più scelta grazie alle Offerte Speciali di {fe_program_name}, partner di fiducia di Booking.com."},"language_exception_cobrand_default_1_header_sr":{"header_sr":"{num} struttura con un'{start_bold}Offerta Speciale{end_bold}"},"language_exception_cobrand_default_11_header_rt":{"header_rt":"Offerte {fe_program_name} su tutte le {fe_program_name} camere"},"language_exception_cobrand_default_8_header_rt":{"header_rt":"Offerte {fe_program_name} su tutte le {fe_program_name} camere"},"language_exception_cobrand_default_8_header_sr":{"header_sr":"{num} strutture con {start_bold}Offerte Speciali{end_bold}"},"language_exception_cobrand_default_11_header_sr":{"header_sr":"{num} strutture con {start_bold}Offerte Speciali{end_bold}"},"language_exception_cobrand_default_8_badge_discount":{"badge_discount":"Risparmia l'{reward_amount}%"},"language_exception_cobrand_default_8_badge_miles":{"badge_miles":"Guadagna {reward_amount} miglia"},"language_exception_cobrand_default_1_badge_miles":{"badge_miles":"Guadagna {reward_amount} miglio"},"language_exception_cobrand_default_1_header_rt":{"header_rt":"Offerte {fe_program_name} su {fe_program_name} camera"}},"destinationtype":{"region":{"name":"Regione"},"country":{"name":"Nazione"},"city":{"name":"Città"},"airport":{"name":"Aeroporto"}},"flight_class":{"5":{"name_with_class":"Qualsiasi classe"},"4″:{"name":"Prima classe"},"1″:{"name":"Economy"},"2″:{"name":"Economy premium"},"3″:{"name":"Business"}}}); }(window.booking)); ]]><![CDATA[window.Promise||document.write('')]]><![CDATA["currentScript"in document||document.write('')]]>
1470480,1470570,1464770,1471140,1469610

Source

"https://www.bing.com/aclick?ld=e8sThgi_Q148kJJ53W2RTcljVUCUwWY65bDBY-hTdHuUlmJoxw5MEyVML69Bnj955CTBTJuBA8vIhhb1Crs11KORhbYgvXhDF-00ZwI9iLrQ5D3osFbHnyScSbdWtjDeXfL_Pjp4xtbfrcXLLKTGAaGWCsb-q_cAgxMuYWMHxU03yxLodq&u=aHR0cHMlM2ElMmYlMmZ3d3cuYm9va2luZy5jb20lMmZ2aWxsYXMlMmZyZWdpb24lMmZpdCUyZnNhcmRlZ25hLml0Lmh0bWwlM2ZhaWQlM2QxMTgxMDI5JTI2bGFiZWwlM2Rtc24tTlZUWEhfNnoxZFQ5RDBkQXI3dmN6QS03OTg1MjEzMjU2MjM1MiUzYXRpZGF0LTIzMzE2NTE4NDU5NjY0NzUlM2Fsb2MtOTMlM2FuZW8lM2FtdGIlM2FscDE4MTglM2FkZWMlM2Fxc3ZpbGxlJTI1MjBpbiUyNTIwc2FyZGVnbmElMjUyMGRhJTI1MjBhZmZpdHRhcmUlMjZ1dG1fY2FtcGFpZ24lM2RJdGFsaWFuX0l0YWx5JTI1MjBJVCUyNTIwSVQlMjZ1dG1fbWVkaXVtJTNkY3BjJTI2dXRtX3NvdXJjZSUzZGJpbmclMjZ1dG1fdGVybSUzZE5WVFhIXzZ6MWRUOUQwZEFyN3ZjekElMjZtc2Nsa2lkJTNkNDU2ZjhiYTNlYmU2MTQxYWViYmVlYTQyMjE2YWQyYTQ&rlid=456f8ba3ebe6141aebbeea42216ad2a4"
Pubblichiamo solo i migliori articoli della rete. Clicca qui per visitare il sito di provenienza. SITE: the best of the best ⭐⭐⭐⭐⭐
Clicca qui
La rete Adessonews è un aggregatore di news e replica gli articoli senza fini di lucro ma con finalità di critica, discussione od insegnamento, come previsto dall'art. 70 legge sul diritto d'autore e art. 41 della costituzione Italiana. Al termine di ciascun articolo è indicata la provenienza dell'articolo. Per richiedere la rimozione dell'articolo clicca qui